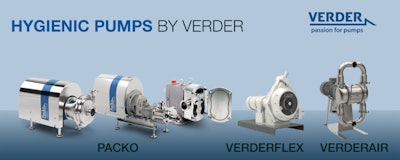 The Verder Group, a Dutch family-owned business specializing in the manufacture and distribution of pumps and laboratory equipment, has announced its acquisition of the Jabsco rotary lobe pump product line from Xylem. The acquisition strengthens the Verder Group's portfolio of offerings in the food & beverage and pharmaceutical markets. During a transition period, the products will be marketed under the "Jabsco by Packo" brand—Packo (offering centrifugal, twin-screw and lobe pumps) being the main hygienic brand of the Verder Liquids pumps division.
Adding extra footprint in the market, expanding the portfolio, increasing the level of hygienic knowledge, and intensifying the focus on the hygienic market will allow Verder to further increase penetration in these expanding markets.
Andries Verder, CEO of the Verder Group, commented, "The Group is excited to add the Jabsco lobe pumps to the offering of Verder Liquids into the hygienic market. Jabsco is a very well-known and established name in the market with a highly loyal customer base, and adding the lobe pump product line will fortify our position as a hygienic pump specialist."
As of today, all Jabsco lobe pumps can be purchased from the Verder organization under the new name: Jabsco by Packo. The recently acquired Jabsco portfolio produces rotary lobe pumps utilizing tri-, multi-, and bi-wing rotors. All the pumps are designed for hygienic and ultra-hygienic processing in the food and bioprocessing markets.
All other Jabsco product lines and technologies are being retained by Xylem, which continues to serve multiple industrial sectors, as well as the leisure marine and recreational vehicle markets, as a leader in motor driven diaphragm (MDD), flexible impeller, and sliding vane technologies.
Companies in this article