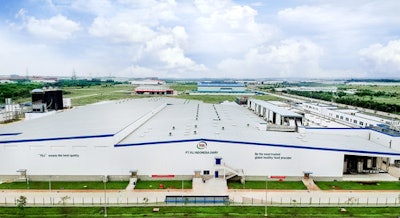 Asia's leading dairy producer, Yili Group, has launched first phase of the Yili Indonesia Dairy production base. Upon completion of its second phase, the production base will become the country's largest ice cream factory, with a daily production capacity of 4 million ice cream products.
Yili's first self-built plant in Southeast Asia, it includes cutting-edge technology and equipment, including the Internet of Things and big data analytics. The production base integrates advanced digital technologies throughout its entire production chain. Robotics solutions provide automated packing, palletizing, and warehousing.
As part of its efforts to build a sustainable and environmentally friendly production facility, Yili Indonesia Dairy has installed a wastewater treatment system with a daily treatment capacity of 2,800 tons. Reclaimed water is then used for the irrigation of plants in the factory. To date, the factory has passed the ISO22000, HALAL, and BPOM certifications and been rated A grade by LPPOM MUI, the largest food and drug certification agency in Indonesia.
To ensure high levels of visibility and transparency, the site will be open to the public whenever the factory is in full operation, and consumers can watch the whole production process as it unfolds.
---
---
"Local consumers' clear preference for and trust in our products has reinforced Yili's confidence about our long-term investment and development in Indonesia," says Pan Gang, the chairman and president of Yili Group. "Yili is always dedicated to following the highest standards to drive quality, sustainable development over the long term, and establishing localized operations that benefit the communities where we operate. This ensures that we can better serve local consumers and make deep contributions to socioeconomic development throughout the region."
Companies in this article