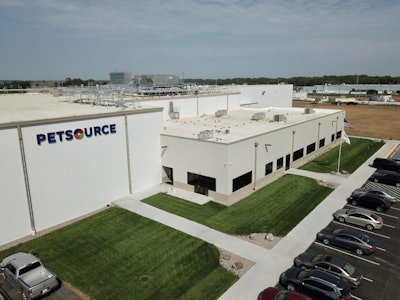 Petsource by Scoular is planning a $75 million, 70,000-sq-ft expansion of its Seward, Neb., manufacturing facility, tripling its production capacity to meet the increasing demand for freeze-dried petfood. Work on the project is expected to begin early next year.
The 105,000-sq-ft, $50 million Seward facility became fully operational in November 2020 and now employs just over 100 people. Projected for completion in early 2023, the expansion is expected to create up to 80 new jobs. Hiring to accommodate the expansion will be completed in phases starting in early 2022.
The Seward project is part of a total of $200 million in investments that Scoular and Petsource plan to make in the petfood industry over the next several years. Scoular also recently announced it has broken ground on a new 14,400-sq-ft marine protein processing facility in Warrenton, Ore., that will serve the petfood and aquafeed industries.
---
---
"This is a very dynamic time for our company and for our industry. We are excited about the opportunity to triple Petsource's capacity to support our valuable customers' growth plans," says Scoular CEO Paul Maass. "I'm confident that the talented team at Petsource will continue as a trusted partner for customers in the freeze-dried pet food industry, enabling their continued growth."
Petsource is a turnkey contract manufacturer for the petfood industry, producing products to support its customers' brand names. It provides recipe development, raw meat processing, freeze-drying, and packaging solutions. The company is an indirect, wholly owned, and independently operated subsidiary of Scoular.
Scoular is an employee-owned, $6 billion agribusiness that provides to farmers, grain processors, renewable energy producers, and manufacturers of animal feed, aquafeed, and petfood as well as food, beverages, and supplements.