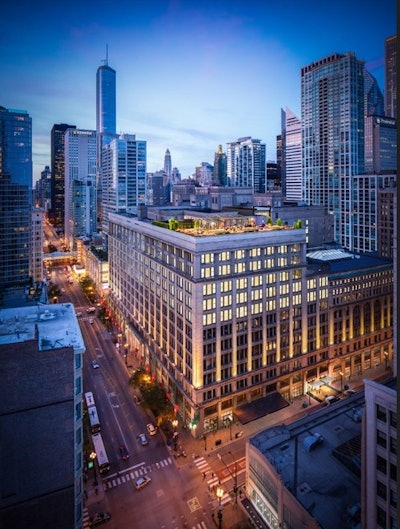 Ferrero North America, part of the global confectionery company Ferrero Group, is planning to open a new location in Chicago's Marshall Field and Company Building. The new 45,000-sq-ft facility will house an innovation center, R&D lab, and offices, and will bring approximately 170 cross-functional team members, representing Fannie May, Nutella Café, Keebler, Famous Amos, Mother's, and other cookie brands in the Ferrero portfolio, to Chicago's Loop neighborhood.
The project will take place in two phases, with all current Ferrero Chicago employees moving to a temporary office space while construction is completed on the final space. The new facility is expected be complete by next spring.
---
---
"Our goal for this space is to reflect Ferrero's unique heritage and provide an opportunity to create greater synergies among our teams. This new space will foster the collaboration, creativity and culture that Ferrero is known for around the world," says Todd Siwak, president and chief business officer of Ferrero North America. "I am proud of our growing footprint in Illinois and strongly believe that this innovation center will propel our teams forward to become leaders in the sweet packaged foods category."
The project is the latest in a series marking Ferrero's growth in North America, including its current building of a chocolate processing facility and a new plant to make Kinder Bueno products in Bloomington, Ill., and the expansion of the capacity in its Brantford, Ontario plant. In recent years, Ferrero also has opened new distribution centers in Pennsylvania, Georgia, and Arizona, as well as expanding its North American headquarters in Parsippany, N.J.
Companies in this article