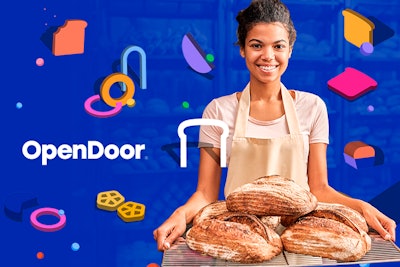 Grupo Bimbo has launched the Bimbo Open Door food business accelerator, which will focus on finding, developing, and investing in startups and scale-ups in the bakery and snacks sector. Companies will be chosen based on their value propositions, sustainable practices, and business models, in addition to other factors.
As part of Grupo Bimbo's sustainability strategy, the companies must be aligned with Bimbo environmental care pillar, utilizing a sustainable supply of raw materials, such as regenerative agriculture, or having waste control programs, reduction of carbon emissions, and post-consumption actions, such as recycling or circular economy. They also must align with Bimbo's nutritional diversity and impact on the community pillars.
Participation in the business accelerator is available to startups and scale-ups dedicated to the baking and production of snacks with a presence in Latin America or with a plan that contemplates their expansion to that market. Projects can be submitted until next August 2023.
To accelerate Bimbo Open Door projects, finalists will be part of a 16-week hybrid program (face-to-face/digital), where they will receive mentoring from executives and managers from several areas of Grupo Bimbo, as well as the opportunity to know the bakeries and innovation centers of the company to enrich their projects.
---
---
At Demo Day, they will present to a forum of company executives the results of their work, looking to collaborate with the company through the development of a pilot, an investment, or a commercial alliance.
"We are a global company born in Mexico more than 76 years ago as a small company. This time has allowed us to learn and capitalize on many lessons we are excited to share with the youngest. With Bimbo Open Door, we want to become an engine for the entrepreneurial ecosystem, where we put into practice models of shared success that promote new talents and their great ideas. We are sure they will revolutionize the food industry," says Raúl Obregón, global director of information and transformation of Grupo Bimbo.
Companies in this article