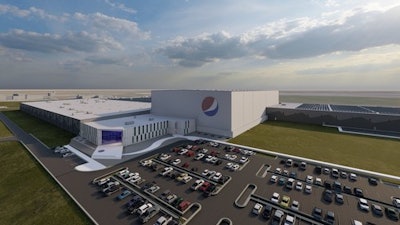 PepsiCo Beverages North America (PBNA) has broken ground on a state-of-the-art, 1.2 million-sq-ft manufacturing facility in Denver. Set to open next summer, the High Point facility will contain 10 manufacturing lines and an automated retrieval system for up to 82,000 pallets. It will have three times the capacity of the current facility and will be PBNA's largest U.S. plant location.
With a positive value chain at the forefront of its design, the new development supports PepsiCo's pep+ (PepsiCo Positive) pledge to positively impact people and the planet. As the company's most sustainable domestic site, the new facility will aim to achieve 100% renewable electricity, best-in-class water efficiency, and reduced virgin plastic use.
The facility will create nearly 250 new jobs in the Denver area, in addition to retaining all 250 current employees who will be upskilled as needed to operate the innovative manufacturing equipment. It will produce many popular products, including Pepsi, Pepsi Zero Sugar, Gatorade, bubly, Rockstar, Propel, and Muscle Milk.
---
---
"We're thrilled to call Denver, a city that shares so many of our values, home to PepsiCo's most sustainable U.S. plant location," says PepsiCo Beverages North America's West Division President Johannes Evenblij. "With the High Point facility serving a model for the future of PBNA's supply chain, we're eager to continue deepening our dedication to Colorado through positive impacts such as new job opportunities and more sustainable business solutions."
"PepsiCo has been committed to our community for nearly 75 years, and we're proud that they have chosen to deepen their roots here and grow that commitment," adds Denver Mayor Michael B. Hancock. "Not only will their new facility create more quality jobs in our city, it significantly boosts their commitment to sustainability and supports my administration's climate action efforts."
Companies in this article