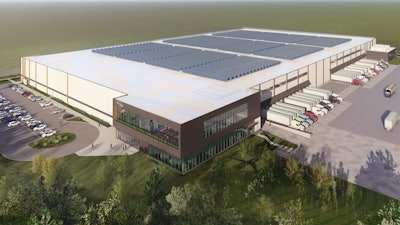 Lactalis Canada is entering into a long-term lease for a new distribution center in Oshawa, Ont. Projected to open in the fourth quarter of next year, the 379,000-sq-ft facility will consolidate multiple shipping locations currently used to service the company's cheese and table spreads category, creating a central location to increase capacity and efficiency while enhancing service to the company's customers. The facility will be the Lactalis Group's largest distribution center globally, from a capacity standpoint.
The facility will be able to store up to 60,000 pallets in both cooler and freezer environments, and will be zero-carbon ready with the potential to be Zero Carbon Building (ZCB) certified. The energy will be sourced completely from the Ontario power grid, with no additional reliance on non-renewable energy sources, and the heat generated by the refrigeration system will be fully reclaimed and used to heat the facility's offices and to melt snow on the site's truck apron.
---
---
A white roof will be installed to reduce the heat island effect, while energy-efficient lighting controls, equipment, and high insulation values will lower the power load imposed on the refrigeration system. Solar panels on the roof are planned for a future phase to provide renewable power that will partially or completely offset reliance on the power grid under certain conditions.
"[Opening this new site] exemplifies Lactalis Canada's growth ambitions in Canada as a dairy leader and, more importantly, reinforces our continued commitment and investment in the country and communities in which we operate," says Mark Taylor, president and CEO, Lactalis Canada.
Companies in this article