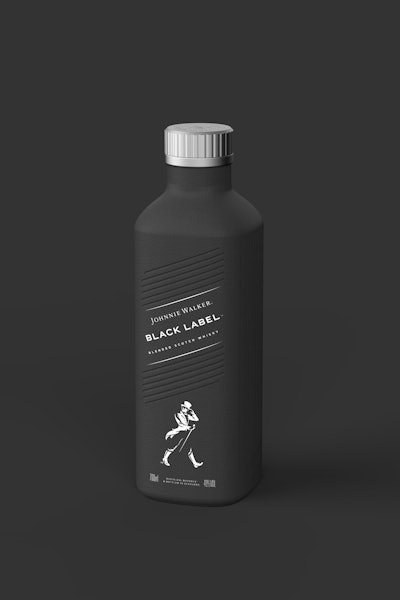 Packaging World/Diageo
"We are very committed to efficient and sustainable production with the highest quality standards," said Dr. Kirstie McIntyre, Head of Sustainability at Diageo, "producing things that people expect and want, and creating experiences that everybody enjoys." McIntyre was speaking at the Sustainability in Packaging Europe conference in Barcelona on Wednesday.
A holding company with many spirits brands, including the world's largest Scotch whiskey producer who last year packed 4 billion liters of product, Diageo is "pioneering grain to glass sustainability" with its Spirit of Progress 2030 program. The program includes 25 'reduce, source, and reinvent' goals that are linked to the sustainable development goals from the UN, said McIntyre. About sustainable action, she added, "there will be opportunities for companies who act soon and act quickly."
Some of Diageo's goals include:
·      Reaching net zero carbon across operations.
·       Switching sources of direct energy to be 100% renewable.
·       Reducing the company's supply chain carbon by 50%.
·       Using 30% less water in product production, and by 2026, replenishing more water in water stressed areas than is used in operations.
·       60% of product packaging will be made from recycled material, and 100% of packaging will be widely recyclable.
·       Develop innovative partnerships to help create a more circular economy.
The company also has a platform called sustainable solutions, to entice innovators to work together with Diageo on packaging and environmental issues. "We realize we don't have all the answers," said McIntyre, "and so we need to work with different sorts of companies - with startups, with creative thinkers, with universities, who will help us to generate the solutions for these sustainable goals that we have."  Large companies are also invited, she added.
Diageo has strategic elements of packaging design for sustainability, and McIntyre stresses that when it comes to a solution, "there's not one size fits all. There's not one silver bullet."
Reduce is about doing what is already done, but doing it better, "and making sure we are as efficient as possible with our packaging," said McIntyre, "We're not wasteful with it. We reduce the overall amount of packaging, increase recycled content, and then eliminate waste from the process. And that would include all types of packaging from what comes into our sites and what goes out as well, including tertiary and secondary packaging."
Reinventing is about doing things differently and thinking about circular solutions. McIntyre said that Diageo has refill models across the world, and "we need to work out how to scale them and how to make them attractive to consumers everywhere, not just those who are used to having a refill model with them already. And so really that's about innovating with partners and catalyzing change across brands, and markets, and in our entire value chain."
Sourcing is another element, and it reflects partnering with suppliers.  McIntyre said that "it's about responsible sourcing of the materials that we use in our packaging. And it's very much connecting that into our other goals, which are about regenerative agriculture, biodiversity, carbon, and water. We see a connectivity between the materials that we use to put in our products, and to pack our products in, and all of those other bigger goals." As examples, McIntyre cited supply chain emissions, which are 90% of the company's total carbon footprint - and of that about half is associated with packaging. Diageo predominantly uses glass and metal packaging, and plastic use is only about 2% of their total packaging by weight.
She continued, "We re-manufacture 150,000 casks to store and to mature our whiskey every single year, and those casks can have up to a hundred years of lifetime and go through seven cycles of that re-manufacturing. We have some great examples already, and we should celebrate those and think about, okay, how do we make that work for other parts of our packaging value chain? We've started programs in radical lightweighting of glass. And that's really about different treatments of glass to enable us to really lightweight it and still keep it as strong as possible to go through those high-speed fill lines."
Reinvention, said McIntyre, is about scaling circular models. "Guinness, for example, is a massive refill model. Especially when it goes to pubs and bars on trade, it goes into a metal keg, it's filled in our factory. And it goes out to the bar and then we recoup that metal keg. Those kegs are part of our asset and the estate, if you like, that sits with Guinness. And it's quite a considerable amount as you can imagine, there's millions of barrels. And so, we already do a lot of refill, both with the kegs, for the on trade, and then also bottles, particularly in our Africa and our Latin American markets for Guinness. These are markets that are used to putting their bottles back into a crate and then sending it back to us. There are some of us who live in other parts of the world who really need to get our heads around this again. As we've talked about this morning, we used to do it. (Referring to milk deliveries in glass bottles.) Why can't we do it again and get into that habit again."
Diageo has other reuse and refill models for spirits in India. 14% of the volume in India for whiskey is in a refill model. In Venezuela, rum is largely refilled as bottles are in short supply there.
In September Diageo opened the new Johnnie Walker brand home visitor experience in Edinburgh. Driven by restrictions of the site, which is a city center, and limits to available space to store the approximately 15,000 bottles per month that would have been needed to provide tasters, the design team came up with an alternative: 9-liter mini kegs that dispense measured tastes of whiskey. No one, said McIntyre, has asked where the bottles are.
Diageo is also experimenting with novel packaging materials such as the paper bottle for Johnnie Walker that was announced in 2020. McIntyre said the announcement received over a billion impressions, but added, "It is extremely difficult to put a solvent like whiskey into a paper bottle. And that's why you aren't seeing it in the shops yet, because it is really hard. But this came through our Diageo sustainable solutions innovation platform. This is what we're interested in trialing. Whether we make it work at scale is one question. Is it the right thing to provoke the research? Is it the right thing to have that moonshot? I would argue, yes, it is. It's okay to do that moonshot and perhaps land on the roof. And so, these are the things that we're trying to bring to market. It just not might be at the scale that we originally envisaged from it."
---
---
Other trials include making 173,000 whiskey bottles out of 100% recycled glass in a waste biofuel powered furnace for a 90% lower carbon footprint, which are being tested in the "robust" market of Columbia. "If this new type of packaging can survive in a robust market, then we know it's good for other markets as well," said McIntyre. Refillable glass bottles for Smirnoff Ice RTD cocktails are being discussed as well.
McIntyre's final thought about taking sustainable action: "Governments are very important - regulations are important, to set a level playing field, but we generally can't wait for governments to make decisions. It can be a lot slower than us in the industry can make those decisions. And I think consumers really want us to go ahead and make those decisions for them, and help them with making the right choices."
---
Interested in Learning More About Sustainable Packaging? Download Our Free PDF: 'Getting Started with Sustainable Packaging' Below.

Companies in this article