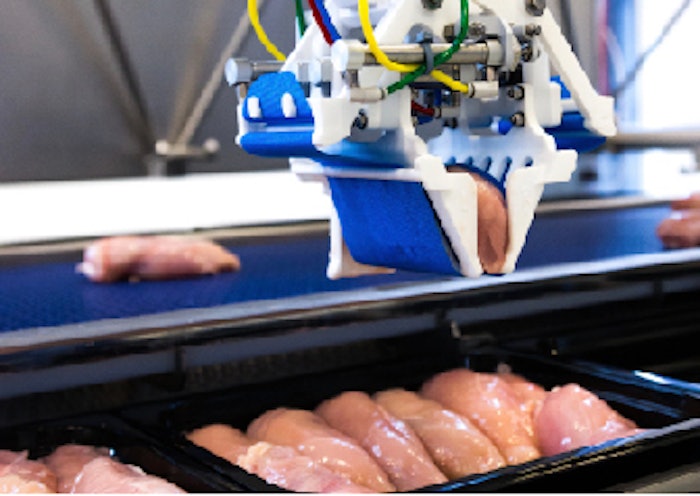 As one of the world's largest manufacturers of every aspect of food processing equipment, Marel established a presence in North America in 2008 with the acquisition of Stork Food Systems in Gainesville, Georgia. After over a decade of stretching the limits of its North American manufacturing facility, Marel recently purchased an additional building in Buford, Georgia, to relocate its spare parts program and open extra space in Gainesville for manufacturing expansion.
OEM magazine spoke with Marel's Allison Attaway, marketing manager, poultry, to introduce the always-growing poultry, meat, and fish processor to fellow PMMI members.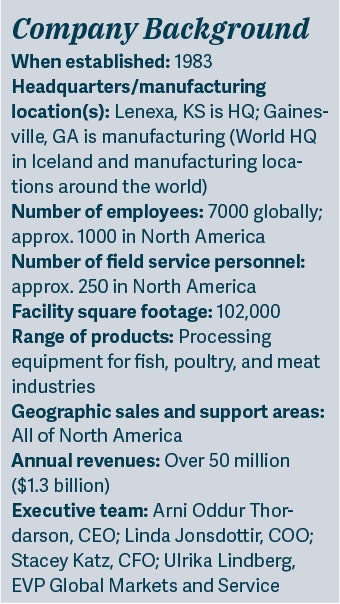 Can you provide a brief history of Marel?
With origins dating back to an engineering project at the University of Iceland in 1977, Marel began in 1983 as a fish processor renowned for developing motion-compensating onboard scales. After this breakthrough in weighing technology, Marel expanded its expertise to the poultry and meat processing industries via strategic acquisitions, with innovations that now span the whole food processing chain including primary, secondary, and tertiary food processing. Marel works with customers to transform [the industry] through innovation in food processing equipment, software, and service. Gainesville is Marel's critical manufacturing facility operating in North America and part of Marel's global supply chain, which spans 13 manufacturing sites in total.
Why did Marel join PMMI?
As an international company, Marel joined PMMI in 2021 because it saw the PACK EXPO portfolio of trade shows as the target audience for our expanding weighing, labeling, and end-of-line products.
Has Marel participated in any other programs since becoming a member?
We are targeting PACK EXPO International in Chicago for adding exposure to our product line and will exhibit in October.
What sets Marel apart from other processing companies, particularly in the food sector?
Marel provides all aspects of fish, poultry, and meat processing from handling the live product through prepared foods. We maintain high expectations for our processing equipment to always remain on the cutting edge of technology. Still, our people set us apart and help push us further as a company. We have a global network that we can rely on and draw knowledge from to help us be successful with even the most challenging projects. We have the same project management process for each project that we execute, no matter who the customer is. This process is a tool that helps us deliver a consistent customer-focused approach. At the same time, a project manager focused on one of the three industries (meat, poultry, fish) that we serve leads each task. This allows us to build relationships between project management, sales teams, and the customer since most of our projects are repeat business with the same customer base. The project manager is the customer's main point of contact for all questions.
As a company with so many different facilities, how do you provide such a variety of processing equipment and software?
Marel has invested in engineering support and has diverse capabilities to produce parts and equipment. Our highly skilled labor force allows us to make modifications early in the production process to perform the work as "standard" in our downstream operations, turning the customization of parts or equipment into standard work. Quick changeover is key to our success, and our machine shop is a prime example. We've applied Lean manufacturing to our scheduling, ensuring our sequencing limits changeover where possible, and have put automation in place to further reduce time and labor. Applying these principles helps limit any overproduction, making better use of labor and materials in the process.
How do you handle field service and training with so many locations producing equipment?
Using North America as an example, Marel has a team of over 250 field service engineers (FSE) spread throughout North America. Each new FSE trains at our Kansas City office and then proceeds to the field to work alongside an experienced FSE. It takes up to 12 months to fully train our FSEs with additional assistance from Europe as needed.
Are your FSEs multilingual?
Yes, many of them are multilingual, with Spanish being the most prominent. However, we have some FSEs proficient in Dutch, Islandic, and Danish.
Once a customer issues a P.O., what happens next?
We launch an internal project kickoff meeting to align all Marel stakeholders on the actions needed to deliver a solution for our customer. Shortly after that, the project manager will contact the customer to align the installation, commissioning, and training steps that we will take. The scope of the project is the largest contributor to delivery. Individual pieces of equipment have a relatively short lead time, while an entire system or a greenfield project includes the customer site preparation and installation team in the project timeline. A project team will coordinate with the customer and contractors at each phase to ensure all parties are kept up to date.
What's the process for Factory Acceptance Tests (FAT)?
We've had to become creative in recent years to perform FATs, and we can now do them virtually as well as onsite. Marel can accommodate a customer acceptance and perform our own, inclusive of conformance, standard work, and control systems checks.
Companies in this article