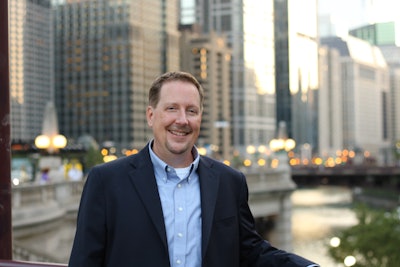 Aaron Hand, current executive editor of ProFood World, is succeeding Joyce Fassl as editor in chief of PMMI Media Group's leading food and beverage processing publication. In his new position, effective August 1, Hand will direct ProFood World's editorial content and oversee the editorial team. Fassl's contributions will continue in her new role as senior executive editor, including her popular Joyce's Voice newsletter and oversight of the annual awards programs.
ProFood World's Publisher Patrick Young shares his excitement about the staff transitions. "Aaron is an outstanding choice to carry forward the tradition of editorial excellence that Joyce Fassl has built. He brings an in-depth understanding of technology and food manufacturing, along with proven skill as an editor and manager. Recent consumer headlines underscore the many challenges and opportunities that food manufacturers will face in the future; we look forward to Aaron's leadership as ProFood World continues to cover this exciting, essential industry."
With over 30 years in the trade press, Hand brings significant experience to his new role as editor in chief. He has been with PMMI Media Group since 2013, joining as executive editor for Automation World, where he focused on continuous process industries. In 2019, he transitioned to editor at large for PMMI Media Group, reporting on a wide variety of industry developments, including advancements in packaging for consumer products and pharmaceuticals; food and beverage processing; and industrial automation. He became executive editor of ProFood World in October 2020.
PMMI Media Group President Joe Angel comments, "We're fortunate to have such a well-qualified professional for ProFood World's new editor in chief. Joyce's wealth of technical knowledge and industry relationships were critical to the launch and growth of ProFood World over these past five years. Aaron will continue that legacy with his proven expertise and editorial vision. My best wishes to both of them in their new roles."
Established in 2016 by PMMI Media Group, ProFood World covers developments in food and beverage manufacturing via a print magazine, website, and online publications edited for professionals in management, engineering, operations, logistics, and supply chain.
About PMMI Media Group
PMMI Media Group is a market-leading B2B media company that produces information for packaging, processing, and automation decision-makers, bringing together solution providers and end users and facilitating connectivity throughout the supply chain. Its world class media brands—Packaging World, ProFood World, Automation World, Healthcare Packaging, OEM, and Mundo PMMI—are proven leaders in covering this diverse and dynamic marketplace, and its digital products incorporate leading-edge media technologies to deliver informed, actionable business intelligence to the industry.
PMMI Media Group is a division of PMMI, The Association for Packaging and Processing Technologies, a trade association representing more than 900 companies that provide a full range of processing and packaging machinery, materials, components, and containers. PMMI actively brings buyers and sellers together through initiatives such as packexpo.com, educational programs, and world-class events.
Learn more at PMMIMediaGroup.com.

Companies in this article