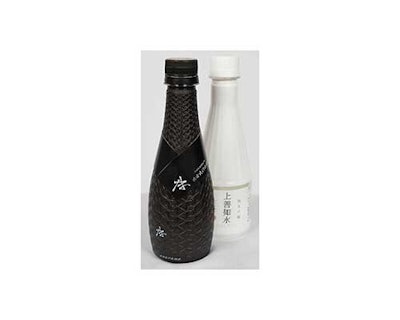 Photo courtesy of Dow.
Food and beverage packaging fared well in the 2019 Packaging Innovation Awards by Dow, which recognize the packaging industry's top achievements in innovative packaging design, materials, technologies and processes. Many of the winners sought to reduce their environmental footprint, while others focused on enhancing the user experience.
The competition's highest honor, the Diamond Award, went to the Functional Film Complex PET plastic bottle developed by Dai Nippon Printing Co. of Japan. It replicates a high-end glass container, delivering the functionality of glass without the drawbacks of breakability, recycling contamination and costly shipping. The bottle is lightweight, recyclable and virtually unbreakable, while imparting a luxurious look. Unlike traditional shrink sleeves, a polyolefin film is bonded over the bottle using the pressure of blow molding that adds oxygen and light barriers and creates a tactile, bumpy surface. The film can be easily peeled off from the PET substrate for recycling of the bottle.
Paperly, a new thermoformable paper-based packaging from Amcor, was one of the 12 Dow Diamond Award Finalists. Paperly gives meat and cheese packaging a rustic, homemade, home-sliced look that will appeal to environmentally friendly consumers, according to Amcor. About 85 percent of the recyclable packaging is made from paper fiber originating from forests certified by the Forest Stewardship Council. Paperly lowers CO2 emissions by 75 percent by using a renewably sourced paper tray instead of a traditional nonrecyclable APET tray made from nonrenewable resources.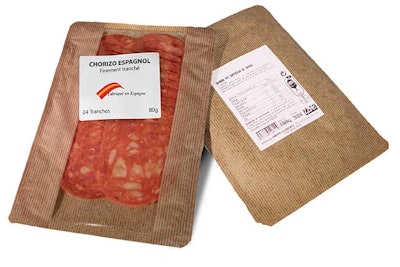 DuPont Teijin Films snagged one of the 10 Gold Awards for its LuxCR depolymerization process. It helps overcome the challenges associated with mechanical recycling and food contact compliance for recycled plastics. It depolymerizes mechanically recovered PET back into the BHET monomer unit that's indistinguishable from virgin monomers. That BHET base monomer is then re-polymerized and converted into a range of BoPET films for applications ranging from food packaging to labels to ID cards. The products it creates have the same mechanical, physical and optical properties as virgin material.
Schur Star Systems took home one of the 12 Silver Awards for its Zip-Pop packaging, which allows users to cook a ready-made meal in a microwave in one step. The dual-chamber stand-up pouch contains a flavor-release chamber that automatically delivers spices and herbs to the food, resulting in a seasoned meal that needs no additional mixing. The ventilation and zipper construction separates the compartments, but allows steam during the cooking process to open both compartments, releasing the seasoning onto the food.
For information about all the award winners, please visit Dow's website.
Companies in this article