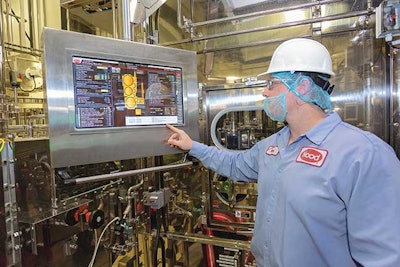 Photo by Pixel Pro Video.
If there were an award given for fast-track beverage manufacturing projects, HP Hood LLC's Batavia, New York, dairy and nondairy beverage processing facility would likely be a top contender for speed of scale-up.
In the summer of 2017, HP Hood purchased an existing 334,000-sq-ft yogurt manufacturing plant previously operated by Mueller-Quaker from Dairy Farmers of America (DFA).
DFA purchased the property in 2016 from Mueller-Quaker, but never intended to use it as a production facility. HP Hood seized this real estate opportunity to not only expand its market share, but to create a state-of-the-art facility with a $200 million investment in a major expansion and renovation project.
By the summer of 2018, Hood had produced its first saleable product, and, in 2019, the Batavia facility was named one of ProFood World's Manufacturing Innovation Award winners.
Initially, Hood added a batch tank room, a sugar receiving room with storage capabilities and an aseptic tank room, and expanded the packaging area. By the time production started in 2018, the facility stood at 360,000 sq ft.
In mid-2019, the plant grew to 444,000 sq ft with the addition of an automated storage and retrieval system (ASRS) refrigerated storage warehouse. The ASRS is rack supported, has nine robotic cranes and is capable of storing 24,000 pallet positions. It is poised for startup as testing continued at press time.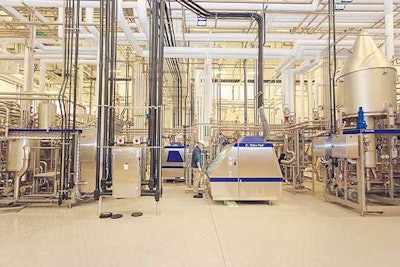 Total revamp, smart reuse
The first part of renovating the existing plant was to remove all the yogurt equipment. This included processing equipment, fillers, packaging and coolers. Hood held an auction to sell some of the equipment, then proceeded to gut a majority of the plant.
New drains, floors and walls were installed throughout the facility as well as new cooling towers. "Eight new exterior tanks were installed for ingredient/product storage," according to Plant Manager Mike Corporon, that added 500,000 gal of capacity.
Hood was able to reuse the raw milk receiving and storage and much of the utility systems, such as steam, compressed air and water filtration systems. The previous plant owner also had a unique refrigeration system, where ammonia was captured in the engine room and glycol was transferred throughout the building for air conditioning, process cooling, etc., which Hood maintained.
The existing plant actually had some good bones to it, says Keith Perkey, vice president of Haskell's food and beverage division. Haskell supported Hood in this project and was also the firm that designed and built the original facility. While some of the existing process and packaging equipment were reused, Haskell had to assess the process piping, valving and control systems. "We ended up reusing some of the packaging equipment," says Perkey, such as repurposing palletizing stretch wrappers and conveyors.
Several valve matrices and mix-proof valves were added to create efficient processing systems. In a plant of this size with multiple clean-in-place (CIP) cycles, Hood also decided to install turbidity sensors and other control upgrades to improve efficiencies.
The plant conversion included the addition of a single-use CIP system, states Corporon. "This system is designed to minimize the risk of cross-contamination and to optimize the chemical concentration for each cleaning circuit." The Batavia facility has five single-use systems capable of cleaning more than 30 different circuits. The entire CIP process is automated and monitored, and each CIP cycle is electronically recorded into a database for historical data- keeping requirements, Corporon adds.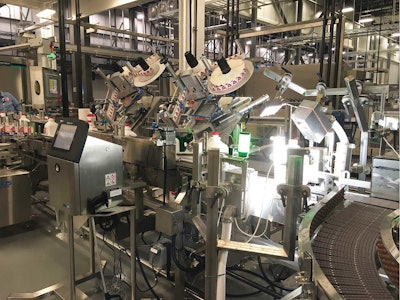 Getting it done right the first time
When designing the new facility, food safety was a definite priority. Hood wanted to create a best-in-class plant and to meet or exceed regulatory requirements.
"We considered challenges experienced in other food manufacturing facilities and learnings from other industry professionals in the facility design," says Corporon.
As FDA requirements change over the years, it's easier to meet them with a new plant, he states, as well as implement equipment and building designs made to meet regulatory requirements with proper preventive maintenance, cleaning and operation.
"Our food safety management system is an all-encompassing, progressive, right-the-first-time design," says Matt Weist, the Batavia plant's quality assurance manager. "We have established policies and programs that require all functional and support groups to focus on performing their tasks with food safety as the foundation of every action."
The program is designed to be process-improvement driven. Each part of the system is evaluated regularly once in place and improved to make the program continue to be better. "After that, we do it again, and evaluate the system again," Weist states. "The purpose is to ensure we are continually looking at our program to make sure we challenge ourselves to have the best system we can, and reduce or eliminate any risk found."
For example, the logging and tracking systems for the raw milk pasteurizing systems were upgraded to comply with USDA regulations. Hood has added product type and timing of run length or time between system cleaning. This helps the plant ensure it is meeting FDA's pasteurized milk ordinance (PMO) requirements.
"We have programming alerting when 72 hours is met for required tank washes. We also have added electronic review and verification of CIPs with our system," Corporon states. "FactoryTalk from Rockwell Automation certainly helps us meet PMO electronic records requirements and ensure we are meeting time/temperature holding and CIP requirements."
Hood's quality and sanitation teams reviewed and enhanced the existing plant's food safety standards with additional cleaning and foaming stations. In addition, teams from both Haskell and Hood attended Food Safety Modernization Act training to ensure they built a world-class fluid dairy products manufacturing facility.
The SQF-certified facility has received New York State Grade A milk approval, provides direct shipping to customers, and receives 40 milk tankers per week from local farms with 200 outbound trucks per week.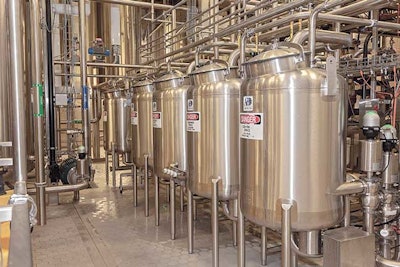 The process and the plan
After blending, product is sent to several 12,000-gal batch tanks, where it is tested and verified, then moves to the processors and finally to sterile tanks. As part of the blending system, dry ingredients are brought in to make the proper batch.
After sterilization, product transfers to fillers, labeling, case packing and then palletizers. Currently some pallets are directed into the conventional warehouse with a capacity of 2,500 pallet spaces. The Batavia facility is in the process of commissioning a new 82,000-sq-ft refrigerated ASRS, which features sophisticated layer/case picking functions and programmed outbound staging lanes. The highly automated warehouse has the ability to handle more than 160 pallets per hour and features layer picking robotics. The new ASRS has a footprint similar to the conventional cooler, but features pallet storage capacity that is approximately 10 times larger at 24,000 pallets. "We'll be able to load a truck and have it out the door in 30 minutes from it arriving on-site," states Kevin Moyer, an HP Hood project engineer at the facility.
Another great thing about this facility is that utilities are separate from the production area, separated by a corridor, Corporon says. Also, the previous yogurt production facility had a mezzanine to support its filling operation. "We repurposed that, and we put all our auxiliary equipment that you normally see in a packaging area, like CIP skids, presses, coolers, up there and away from our packaging area," Corporon explains. "It leaves a very clean packaging area, easy to maintain and certainly safer without all that equipment around."
In addition, utility systems are capable of handling significantly larger loads than the original facility required.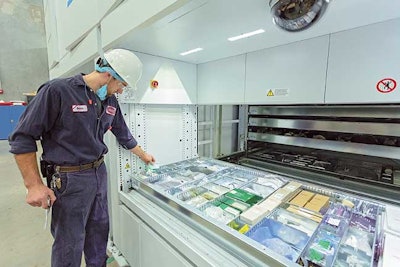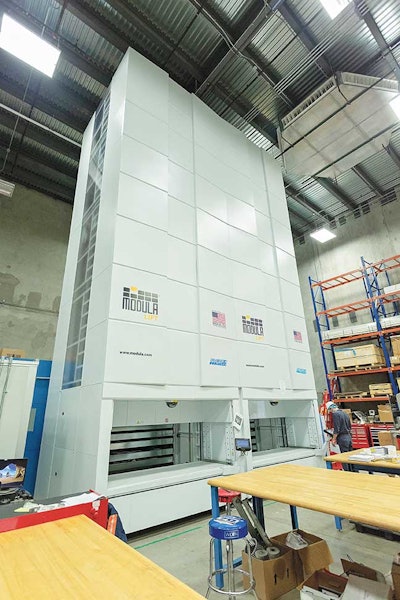 Cost-effective controls
At the beginning of the project, Haskell's process engineers spent several months evaluating and testing various control system software products to ensure a flexible, cost-effective and reliable process control system. This initial research saved Hood money by retaining some of the control system software features and products from the original plant, while also improving efficiency by removing the pieces that had become outdated.
With new equipment in place, Haskell enhanced operator safety by strategically utilizing PMO-compliant, mix-proof valves. The efficiency of the production line's CIP systems was also enhanced by using turbidity sensors to minimize water usage for product push, flushing and product changeovers, without compromising product safety. In fact, says Perkey, all of the CIP cleaning circuits were optimized to provide repeatable cleaning results with minimum water, steam and chemical usage.
Additionally, ASI bus technology was used for all process valves throughout the system to minimize centralized I/O panels, which subsequentially reduce installation costs.
"All of the PLC (programmable logic controller) code for the plant was rewritten from scratch to support a new, modern system concept that included ControlLogix PLCs, FactoryTalk View SE, Historian and PlantPAx," says Perkey. A significant amount of Ethernet I/O was built into the new system with the latest in Ethernet enhancements, including device level ring technology, which can quickly detect network faults and reconfigure the network to keep continuous processes operating.
Within the new, fully automated system, based on a Rockwell platform of PLC and human machine interface, the logging and tracking system is compliant with 21 CFR Part 11 that establishes FDA regulations on electronic records and electronic signatures. "Applicable to all FDA-regulated industries, these regulations require audits, system validations, audit trails and documentation for all software and systems involved in processing electronic data," states Perkey.
The software and controls investments minimize system downtime, increase production efficiencies, and maintain a high level of product and operator safety mandated within the dairy industry.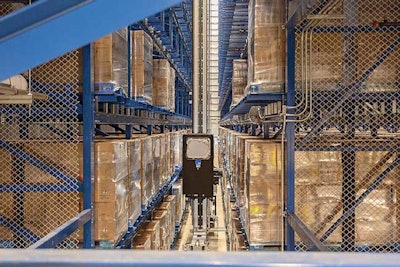 Packaging and the digital twin
At present, the plant features three plastic packaging lines capable of filling HDPE and PET bottles in sizes ranging from 32 to 96 oz, equivalent to approximately 380,000 gal a day. In addition, five paper packaging lines will produce approximately 6,400 cases an hour by late 2020. At press time, two gable-top-with-fitment packaging lines were up and running.
Hood wanted to make the plant resemble its existing production facility in Winchester, Virginia. When replicating some of the packaging systems in Winchester, it utilized new technology to analyze the existing systems and make improvements on the new installation at Batavia.
Because accumulation was required on the packaging systems, Haskell ran some simulation and built a digital twin. "We simulated the entire packaging and process systems so that we could rightsize the accumulations to make sure that [Hood] didn't have to overinvest in conveyors and unneeded accumulation," says Perkey.
Additionally, having a digital twin of the completed packaging line prior to the completion of construction enabled the project team to troubleshoot any issues ahead of time, minimizing time and money spent on startup. This virtual look into the packaging line prior to procuring or installing any equipment also ensured that the line would meet the desired overall equipment effectiveness.
In addition to re-purposing some of the original facility's equipment (including palletizers, stretch wrappers and a pallet conveyor), the project also included major packaging unit operations from suppliers such as Shibuya, Evergreen and KHS. Efficient, cost-effective packaging lines, which are designed to minimize, simplify or, in some cases, completely eliminate line changeover, maximize plant uptime and reduce line maintenance.
For example, Shibuya ESL Liquid filling equipment was installed to provide plastic container filling capability for HDPE and PET bottles. The extended shelf life (ESL) filler provides an ultra-clean filling and sealing environment by utilizing a chamber system to optimize machine cleaning, sanitation, filling and sealing performance. Advanced features include programmable weight-controlled filling, data collection of filling and sealing operations, automated cleaning system, and CIP monitoring and trending. "The automatic cleaning and sanitation system operates with minimal human intervention," Corporon says. Three Shibuya lines are up and running.
In addition, Evergreen EH-3 fillers were installed to fill paper carton containers, ensuring ESL production is packaged under ESL conditions and HEPA air filtration. Carton treatment occurs when nozzles spray a fine sterilant mist on inner panels and components of cartons. The carton then travels through a sterilizing chamber that gently blows heated air into the carton before entering the fill stations.
Tetra Therm Aseptic units are fully automated continuous flow systems that heat product, maintain product temperature for a short duration, and cool the product to packaging temperature. The integrated control system is based on Allen-Bradley's Logix platform of PLC process controllers and provides system interface for the Tetra Therm Aseptic VTIS – ESL system and Tetra Pak Aseptic Tank control.
Another way Hood speeds efficiency is with Modula Lift, a vertical spare parts storage unit. It allows maintenance staff to quickly and correctly find parts and features automated picking and laser guides to ensure staff is picking up the right part. In addition, the vertical unit saves space on the shop floor. In the future, the Batavia facility will enable spare parts ordering on this system.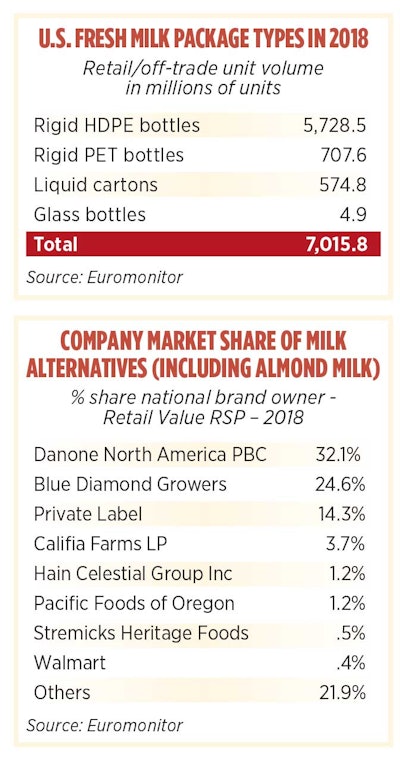 Green initiatives
Enhancements to the wastewater treatment system were included in the plant conversion. "Our current wastewater treatment plant includes pre-screening, a 1 million-gal aeration basin, a bio P tank and a DAF system," states Corporon. The system is capable of processing approximately 400,000 gpd at 300 gpm of wastewater.
The plant commissioned its first reverse osmosis system in October and is looking for opportunities to utilize the waste stream. In addition, the Batavia site has been a zero-to-landfill facility since production began in July 2018.
Some highlights of the facility's green initiatives include:
• A new boiler uses a variable frequency drive on the blower motor to save electricity.
• More efficient water usage when flushing new equipment installations.
• All new indoor plant lighting is LED.
• Replacing outdoor lighting with LEDs.
• Sludge decanting enhancements reduce hauling requirements.
• Optimized UV sterile water generator reduces water usage.
Some of the plant's upcoming initiatives include enhancing handling equipment for plastic bottle recycling and a lighting audit for LED conversion for any new construction and renovation projects.
Expect the unexpected
Corporon says food and beverage manufacturers should expect the unexpected when taking on a project of this complexity. "With multiple project tracks, it is likely there will be competing priorities. Including contingencies in the planning process is important," he states.
Training and clear communication also made the project a success for Hood, and Corporon says training made the difference. The facility leveraged training from OEMs, contractor subject matter experts and experienced technicians. In addition, structured safety meetings, daily pre-shift contractor meetings and planning meetings were "absolutely critical to project success," Corporon states. "I was impressed by the ability of the teams to deliver critical intersecting projects at a remarkable pace using innovative thinking," he adds.
In a very short period of time, Hood converted a cultured dairy products facility into a technologically advanced plant that produces and packages fluid milk for ESL dairy beverages. Sitting on 82 acres, the Batavia facility has plenty of room for expansion. In fact, in 2020, the plant is preparing to install an additional ultra-high-temperature processor and more paper ultra-high-temperature filling lines. When asked what the future holds for the facility, Corporon expects to install more advanced software applications, enhance existing machinery and implement more hand-held technology tools on the plant floor.
Companies in this article