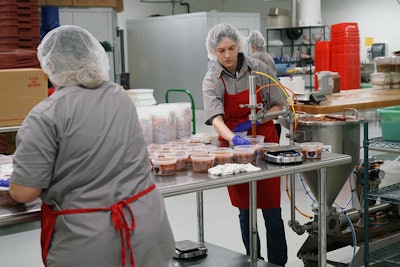 Photo courtesy of San Juan Salsa Co.
As a small but growing company, San Juan Salsa Co. isn't ready just yet to fully automate its packaging process. Instead, the Arlington, Washington-based manufacturer decided to go the semi-automated route. The company invested in a piston filler to package its gourmet salsas that has already helped to optimize its current operations while laying the groundwork to fully automate its packaging capabilities in the future.
San Juan Salsa has long taken pride in manufacturing and packaging its salsas by hand since it was founded in the late 1980s. The company produces about 600,000 tons of all-natural, gluten-free salsas a year in seven flavors: Mild, Medium, Hot, Afterburner, Traditional, Salsa Verde and Pineapple Mango. They are kettle cooked in small batches except for the Traditional variety, which is an uncooked salsa with a medium heat profile. The company also sells three types of tortilla chips (All Natural, Yellow Corn and White Corn Sesame Seed), which are made by a co-manufacturer. San Juan Salsa distributes its products to national grocery store chains, including Whole Foods, Costco and Albertsons, as well as upscale specialty markets in Washington, Oregon, Idaho and Alaska.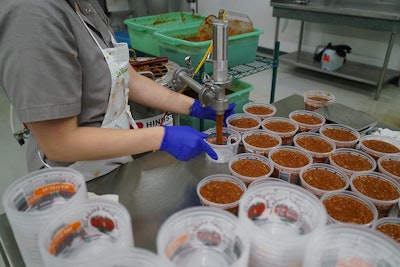 Leveling up
In 2018, San Juan Salsa started planning its expansion to California. To make the leap to such a large market, the company recognized that it would need to upgrade its operations. Because it wasn't willing to sacrifice the handmade, artisanal nature of its salsas, San Juan Salsa decided to scrap hand-packing in favor of automating its packaging process. "We will always make our salsas by hand, but how you get it into the package is not as important as long as it's in the proper configuration," says Sandy Albright, co-owner and sales and marketing manager for San Juan Salsa. "We knew we would keep the handcrafted part of making the salsa, but we wanted to start automating the packaging part."
To transition from hand-packing to packaging automation, San Juan Salsa took the slow-and-steady approach. Instead of purchasing a fully automated packaging system, the company installed the SP-64 Single Piston Filler from Hinds-Bock, the Bothell, Washington-based supplier of filling, depositing and pumping equipment. This semi-automated, entry-level filler is ideal for smaller food manufacturers that want to gradually incorporate automation into its packaging operations, according to Albright.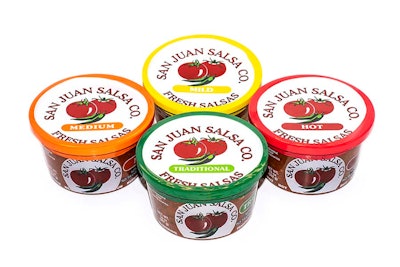 Return on investment
Albright appreciates that the piston filler is simple for employees to operate, offering filling accuracy, gentle product handling and easy cleanup. Hinds-Bock lowered the height of the hopper so that employees could easily pour the salsa into it. To ensure accurate volumetric filling, workers use a dial on the machine to adjust the stroke of the piston to deliver a pre-measured volume of product to the container, taking into account the size of the container (14 ounces or 32 ounces) and the viscosity of the salsas. The positive shut-off spout further provides accurate filling and prevents the product from splattering onto the flange of the container. In addition, large ports ensure the chunky yet delicate particulates in the product aren't damaged. And the tool-less design makes it easy for employees to disassemble and reassemble the filler for cleaning and maintenance.
Since it installed the SP-64 piston filler in October, San Juan Salsa has been able to maintain its packaging capacity with less labor. When it previously packaged salsas by hand, the company needed four employees to each work six hours one day a week in order to package about 2,750 14-oz containers weekly. With the new piston filler, San Juan Salsa is still packaging about 2,750 containers a week, but now it only uses three employees, who each spend four hours one day a week operating the filler.
"The piston filler has allowed us one less employee, Albright explains, "and our employees are actually spending less time doing that particular duty. So they have time to do other things like our prep work and packing boxes."
Albright is looking forward to gradually automating the SP-64 filler to meet the needs of the company as it expands. For example, Hinds-Bock will add an automatic denester to it next year, which means the operator will no longer have to manually place containers under the discharge spout.
"The main advantage is that it'll grow with us," Albright says. "It allows us to budget and grow our company efficiently without putting in this $100,000 packaging machine that we don't quite need yet. We'll be able to put in a little piece at a time. And we're very excited about that."
Companies in this article