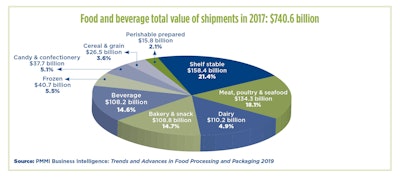 Today's consumers are interested in foods with recognizable ingredients that are free from artificial additives and have been steadily moving away from refined sugar, according to a new study from PMMI Business Intelligence titled Trends and Advances in Food Processing and Packaging 2019. In response, food processors are reformulating recipes to include natural and healthier ingredients in all food categories.
Plant-based foods have outpaced the growth of the larger food market by more than 500 percent, according to PMMI's research. In specific categories, such as dairy and meat, disruptive products introduced in the last few years have further widened the gap in the growth margins.
Functional foods continue to grow as consumers trend toward health-conscious foods, driving demand for natural foods that manage weight, mood, energy and sleep. According to Mintel, longer life spans have given food and drink manufacturers an opportunity to design products that maintain and enhance bone, joint, brain and eye health.
However, there needs to be a clear FDA definition of functional food so consumers are not confused about what they are buying.
"We are reformulating recipes to offer products with more natural ingredients," said a senior director of plant engineering from a leading snack food maker, "but they are more costly."
Factors driving food processing and packaging market growth include single servings, ready-to-eat meals, convenience, purchasing power, a growing supply chain and the demand for food delivery services.
Market constraints include volatile prices of raw materials, uncertainty in global trade policies/government regulations, high-profile contamination recalls and consumer-driven environmental concerns.
The report features extensive secondary research as well as personal interviews with key industry stakeholders. Food processors report they need help from machine builders in the following areas:
• Installing sensors and alerts for data collection.
• Standardizing communication platforms.
• Offering greater reliability on sanitary design.
• Providing easy automated changeover with minimal human involvement.
• Making equipment as flexible and adaptable as possible.
The executive summary is available free of charge at www.pmmi.org/business-intelligence/industry-reports.