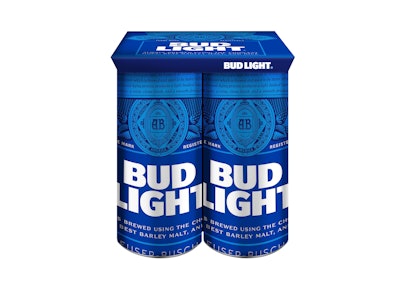 Those ubiquitous six-pack plastic rings for aluminum cans may become a thing of the past if Graphic Packaging International has its way. The Atlanta-based paperboard and paper-based packaging company created KeelClip, an environmentally responsible paperboard alternative that also offers functionality and branding benefits over conventional polymer multipack can carriers.
Graphic Packaging International designed KeelClip to replace plastic rings, tops, and shrink wrap packaging used for packs of beers and sodas. The paperboard fastener features a lid that covers the top of the cans. A flap attached underneath the center of the lid slips in between the rows of cans. That flap is shaped like the keel of a ship to provide stability for the pack. Thanks to the keel, the packaging's format can accommodate a variety of can heights and diameters, as well as configurations ranging from 2x2 to the standard 2x6 to as many as 2x10.
Timing is everything
Graphic Packaging International spent several years developing KeelClip, but it decided to launch the eco-friendly packaging last fall given current consumer sentiment condemning plastic. Over the last few years, consumers have been inundated with haunting images of plastic pollution in oceans, and turtles, seagulls, and other marine life ensnared and killed by plastic rings. In addition, more countries have passed legislation banning single-use plastic.
---
See it Live at PACK EXPO Connects Nov. 9-13: Easy Design and Setup of Your Robotics Systems Using Lenze's Ready-made Kinematic Modules, by Lenze Americas. Preview the Showroom Here.
---
"We had the first version of [KeelClip] 10 to 15 years ago. But it really wasn't until the last couple of years that we dusted it off again and tried to look for a fresh approach, which KeelClip is, because of the increasing movement away from plastic, both socially and legislatively, that is happening around the world right now," says Brett Arnone, vice president of beverage commercial operations at Graphic Packaging International.
The sustainable yet functional nature of KeelClip will resonate with consumers, according to the company. KeelClip is composed of paperboard, a renewable resource. The packaging is also recyclable and uses less board than cartons wrapped around multipack cans. In addition, finger holes make the packaging easy to carry and transport. And the keel allows for the cans to be secure, but consumers can still easily remove them.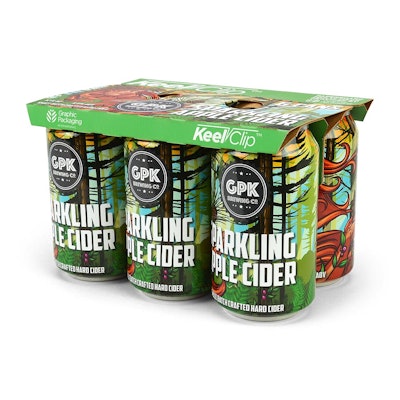 Branding appeal
KeelClip also offers marketing opportunities you can't get with plastic rings. Because KeelClip's lid covers the top of the cans, it not only protects the cans from dirt and debris, but also lets the manufacturer add marketing messages and high-quality graphics to the packaging for added branding impact. In addition, the center rigid keel ensures that the cans are precisely oriented and do not twist or turn during shipping. The consistent alignment and display of the cans in KeelClip can create a billboard effect for maximum shelf appeal, according to Graphic Packaging International.
---
See it Live at PACK EXPO Connects Nov. 9-13: Exceeding your foreign material HACCP specification can save you money, by ANRITSU INFIVIS INC. Preview the Showroom Here.
---
Coca-Cola and Anheuser-Busch InBev will be the first companies to use KeelClip. Coca-Cola's European bottling partners Coca-Cola HBC and Coca-Cola European Partners will roll out the paperboard carrier as part of the beverage giant's World Without Waste initiative, an ambitious environmental program in which Coca-Cola seeks to make packaging a part of the circular economy with goals that include making its packaging 100% recyclable by 2025. Coca-Cola HBC will launch KeelClip in Ireland and Poland in the spring, followed by Austria, Italy, Switzerland, and Romania by the end of the year. Coca-Cola European Partners will debut KeelClip in the Netherlands this year. Meanwhile, Anheuser-Busch InBev plans to leverage KeelClip in the U.K. market with some of its brands, including Bud Light, in the spring.
Companies in this article