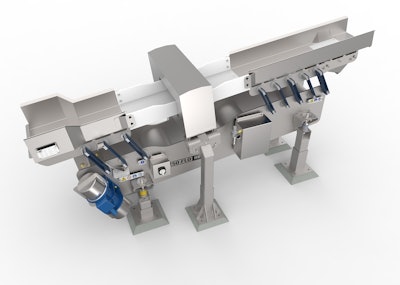 Designed for integration with a metal detector to inspect bulk foods on processing and packaging distribution lines, the Key Technology Iso-Flo vibratory conveyor combines three bed sections: a stainless-steel infeed, a non-metallic section that passes through the metal detector's aperture and a stainless-steel section with a reject device. The infeed section can incorporate a screen capability to scalp or remove fines, small particles or water, if needed. Reject device options include a pneumatic gate within the shaker bed that opens and closes and a slide chute at the discharge of the shaker bed that switches direction if metal contamination is detected.


Companies in this article
Videos from Key Technology, Inc.