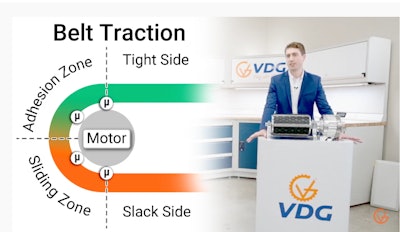 A lagging system adds material to a drum motor to improve the grip between the motor and the belt. The most common form is rubber lagging that has been vulcanized and hardened over a steel shell.
During a demonstration at PACK EXPO Connects, drum motor manufacturer Van der Graaf (VDG) described how a lagging system works and the belt traction around the motor, which includes a tight side and a slack side, with an adhesion zone and a sliding zone. By increasing slack side tension, more products can be pulled on a belt. But the second way to improve traction is to change the materials touching the belt.
That's where VDG's IronGrip Lagging System comes in. Composed of steel bar reinforcements welded onto the drive shell with sectional rubber lagging inserts, this patented design transfers load forces more efficiently than standard rubber lagging. With up to 40% more traction than standard rubber lagging, the IronGrip allows for less pre-tensioning while providing higher belt-pull, the company said.
The difference between standard rubber lagging vs. IronGrip lagging comes down to how the forces are distributed between sections of the drum motor.  Common problem areas include, shear force at contact points that cause delamination, belt mis-tracking off the center of the conveyor, and wear on external components. IronGrip mitigates these issues by distributing forces with high grip and less tension. 
To view this demo in its entirety (available through March 31, 2021) as well as others, and to add Van der Graaf to your MyConnects Planner, click here.
Companies in this article