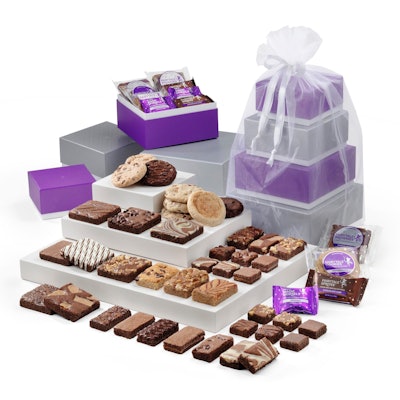 Fairytale Brownies
Count to 100. I'll wait. Any distractions while you counted? Are you sure you didn't miss any numbers? Now do it again. All day long.
Fairytale Brownies was founded by two childhood friends, David Kravetz and Eileen Spitalny, who met in kindergarten. After graduating from college and spending a few years in the corporate world, they took their friendship, entrepreneurial spirits, and Kravetz family brownie recipe, and went out on their own to launch a company in their hometown of Phoenix. Thirty years later, and their company employs more than 130 people, selling multiple flavors of brownies, blondies, and cookies through online delivery to customers all over the world.
When Kravetz and Spitalny first launched their business from a single bakery storefront, they started with full-size 3-in.-square brownies. Later, they started making half-size brownies they called Sprites. A few years after that, they added quarter-size brownies called Magic Morsels. In recent years, demand for those bite-sized morsels has exploded. "That's the size and the line that has just taken off," Kravetz says. "I think about 70% of our volume right now is in that size brownie."
---
---
And here's where the problem comes in with counting to 100. Fairytale Brownies' workers were counting brownies by hand and placing them into reusable totes, which were then taken to the freezer to be ready for assembling into gifts. The full-size brownies and Sprites were one thing, stacking nicely in the totes and making it easier to keep track of the count. But employees struggled to count and keep track of the 500 bite-size brownies that fit into each tote.
"They're too small to stack and organize. The team would have to count 100 pieces, put down a piece of parchment paper, then keep going," Kravetz explains. "The only reason they'd do a layer of parchment was if they lost count, instead of starting over, they would only go back to the previous layer."
It's not difficult to see that this sort of task is better suited to automation than it is to human labor. As burgeoning demand for the Magic Morsels began to cause problems for the end-of-line conveyor system, the team at Fairytale Brownies realized they needed some help.
Automating the sort and count
Fairytale operations were using a relatively slow flow wrapper—about 150 pieces a minute—along with a single accumulation table. From there, workers placed products into totes, counting and stacking as able. To keep up with growing demand, especially during the peak gifting season, Fairytale needed a faster flow wrapper. But there was no way that workers were going to be able to keep up with a faster flow of product with the current system in place.
John Glenn & Associates, a material handling and engineering consultant based in Scottsdale, Ariz., equipped Fairytale with a new Syntegon horizontal flow wrapper to individually wrap brownies and other products. To reconfigure the rest of the system, the consultant turned to Dorner for its conveyor expertise.
The goal was to design a system that would not only add efficiencies to Fairytale's end-of-line packaging operations but would also reduce the amount of employee interaction needed for the process. Dorner's Engineered Solutions Group, which specializes in designing conveyor systems for applications with a higher degree of complexity, worked with Fairytale's confined floor space to come up with a solution.
First, Dorner recommended switching from one to two rotary tables to double packing capacity while operating within the existing space. To convey product through metal detection, Dorner designed a special 2200 Series metal-free conveyor with a plastic bedplate. After packaged product successfully passes through metal detection, a mechanical diverter shifts the products between tables, depending on the size and packaging recipe running.
---
---
The 2200 Series is a low profile, high-performance conveyor used for small to medium part handling. It is designed to improve efficiency, reduce downtime, and increase accuracy during the metal detection process.
Now, the small Magic Morsels flow directly from the accumulation tables down chutes and into totes, with each tote automatically receiving 500 pieces, according to a count by the photo eye. When the count reaches 500, a mechanical diverter arm shifts the product onto the other table, where the same process takes place. The bite-sized treats are accurately counted and packed in totes with no employee interaction.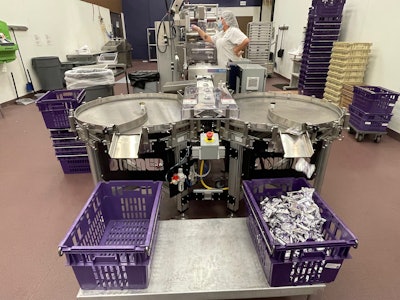 To easily transition the system from running the small pieces to the larger, Dorner incorporated a removable arm and discharge chute into each rotary table.
Lessons learned
Dorner made some discoveries as it tested with the samples at its facility, making adjustments along the way. One adjustment came in relation to the larger pieces. Because the larger brownies could be stacked, they were easier to count, but doing so manually was still a drag on efficiency. But since the larger pieces needed to be sorted more precisely into the totes—to avoid damage and to provide a better fit, Kravetz notes—packing still needed to be done by hand.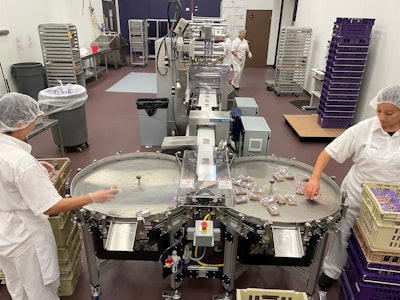 Occasionally, products would begin to back up, and the cookies in particular would shingle on top of each other, and fall off the table. To address this issue, Dorner improved the design with the installation of a 6-in. fixed diverter on each table to gently guide products toward the middle. This minimized contact with other newly deposited products and enabled them to keep rotating toward the center of the tables without over-accumulating. Dorner's improved design allowed plenty of time for employees to grab and sort pieces.
Another issue came when the system was running at full speed and the morsels got backed up. "The morsels were supposed to go down the chute, but sometimes they accumulated in a corner and started backing up and they'd clog the chute," Kravetz says. Dorner modified the diverter arm to keep that from happening, adds Victor Moran, quality assurance supervisor for Fairytale Brownies.
"They were really good after it was installed to tweak these kinds of real-world production problems that crept up," Kravetz notes. "The team did a great job because we modified the design many times during the process, and they were really open to it. They kept coming up with better ideas."
Happily ever after
Installed in March 2022, the new system has been able to significantly speed up production and cut costs, Moran says, noting that they've been able to run the new flow wrapper at speeds of up to 240 Magic Morsels per minute.
That number is limited by the loading of the Syntegon flow wrapper, with each piece being hand-placed between each peg on the machine, Kravetz explains. "In the future, we'll be able to upgrade with an automated loading mechanism, so we can max out the speed of the machine," he says. "The Dorner system was designed to handle the maximum speed of the Syntegon once we get there."
Moran adds, "Right now, the max for Morsels is 300 packages per minute. But they can add a third head and they can go up to 450 packages per minute."
Dorner designed an automated system for loading the baked goods into the Syntegon, Kravetz says, but adds that it was just too expensive at this point in their growth. But certainly something to consider as demand continues to grow. "That's the next step," he says. "We would definitely not need a faster wrapper; we need a faster way to load it."
To address company sales that take place almost entirely in December, the bulk of Fairytale's staff are seasonal workers. "We ramp up the baking team in early August, and then we have an end-of-season party usually on December 23rd," Kravetz says. "We go from about 45 people off-season and we max out at around 140 right before Christmas."
The new system has been able to cut down on the workers needed on the end of line as well. "With our old machine, we would have three shifts, with six or seven people per shift for the wrapping," Moran says. "With this wrapper, we were able to eliminate a whole shift and still produce and package the amount of three shifts."