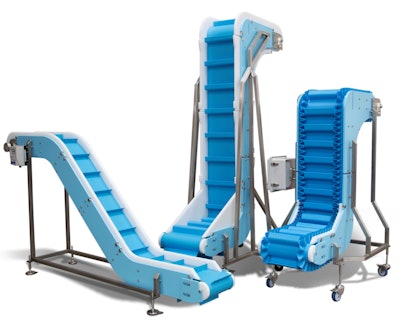 Dynamic Conveyor chose PACK EXPO Las Vegas to showcase its DynaClean Sanitary Conveyors, which efficiently convey products to higher elevations and allow for easy, quick cleaning.
According to the company, DynaClean conveyors reduce cleaning times by half with a patented design that is simple, quick and easy to disassemble and clean. The open design ensures there is no place for food or bacteria to hide, while the 0.5-in. space between conveyor segments makes it easy to sanitize. The blue plastic sidewalls are also chemical and corrosion-resistant. In addition, the conveyors facilitate cleaning with features such as a quick-release design that allows access to all internal components. Washdown motor and control can be removed without the use of tools. The belt can be removed with one lacing rod. The feed roller is easily removed by lifting up and away. The conveyors can be cleaned at the plant or off-site.
To see a range of Dynamic Conveyor DynaClean Sanitary Conveyor, visit Booth 6317 in the Lower South Hall.
Companies in this article