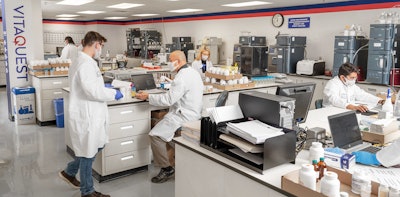 Photo courtesy of Vitaquest
There's rarely an argument about the services a contract manufacturer/packager can offer when it comes to things like helping an emerging brand get started with manufacturing or helping an established brand launch a new product. But co-mans/co-packs have also become the centerpiece for innovation for a lot of brands, according to Ron Puvak, executive director of the Contract Packaging Association (CPA). He notes a Fortune 100 brand that has about 35% of its production run through a co-man—and 85% of its innovation.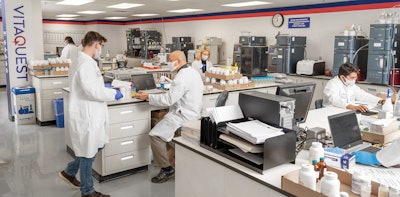 Vitaquest is a New Jersey-based custom contract manufacturer that produces, packages, and labels more than 4,000 nutraceutical and functional food formulations for more than 500 brands around the world. It's an endeavor that requires continuous investment and continuous innovation. Vitaquest has a more than 40-year history as an early adopter of manufacturing technologies; it was one of the first companies to introduce a shelf-stable probiotic, and it also developed the first stick pack design and delivery.
For its powder filling lines, Vitaquest opts primarily for vacuum conveyors, and has worked for more than 20 years with Vac-U-Max technology for its powder conveying needs. Though Vitaquest still uses a few screw feeders, it's been making a conscious effort to move away from that technology. "Vacuum conveyors are the best choice for feeding filling lines for space savings, flexibility, reduced changeover time, simple operation, and minimal maintenance," says Angel Simeon Jr., engineering manager for Vitaquest. "Screw feeders with hoppers require additional equipment to load the hoppers and more floor space. They are also heavier and take longer to set up and clean than vacuum conveyors."
Taking it mobile
Over the years, Vitaquest has moved increasingly toward mobile vacuum conveyors. It recently accepted delivery of its 10th mobile vacuum conveyor from Vac-U-Max at its new 200,000-sq-ft state-of-the-art facility, where it formulates and blends ingredients, processes them into a broad array of dosage forms, and packages them using a variety of packaging technologies, including pouches, stick packs, jars, and vials.
Mobile vacuum conveyors are complete conveying systems that contain all the same conveying system components that rigidly installed vacuum conveyors have—the vacuum producer, filter separator, controls, convey tubing, and a pick-up wand—but on a compact mobile conveyor frame.
"We have Vac-U-Max mobile conveyors, and we can use them anywhere with our equipment, like our pouching equipment, rotary fillers, and our stick pack lines—really, any of our powder filling lines," Simeon says.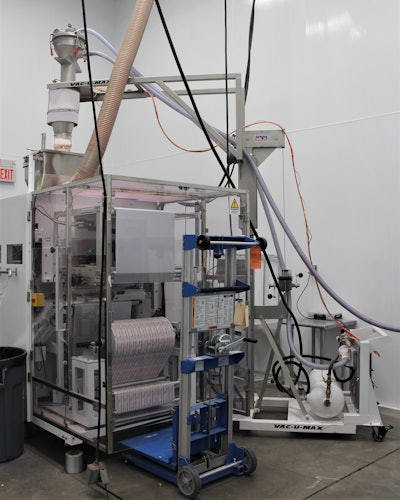 Though mobile vacuum conveyors require more floor space than a fixed unit would require, they have some key added benefits. One is that a single system is able to serve multiple processes—a trait that makes them particularly useful for contract manufacturers like Vitaquest, where product lines can be changed out often for various customers.
When one type of packaging machine finishes a production run, it might become idle for the near future. At that point, the mobile conveyor can be quickly cleaned and moved to another room for use with another type of product and packaging machine. Set-up and operation are immediate after connecting to electric power and compressed air supplies. The packaging machines interface with the mobile conveyor to ensure they never run out of ingredients.
"It allows them to easily move the system into another area that needs a way to load a filling machine," notes Joe Caccamese, president of manufacturer's rep Cino Equipment. "It is also a nice feature that everything you need to operate the system—except for power—is located right on the portable frame. With a fixed system, this would be a problem."
Vac-U-Max systems are designed to be taken apart easily for cleaning. Compared with other pneumatic systems, they do not have all the clamps and gaskets used to hold the body of the receiver together, Caccamese adds.
How it works
The pick-up wand is standard with the mobile conveyor and is the primary device used by Vitaquest to pull material from plastic lined drums. However, bag dump stations, bulk bag unloaders, mixers, and blenders also work with the mobile conveyors.
Like many in the food and pharmaceutical industry that use wands to convey materials from plastic lined drums, Vitaquest's mobile conveyors use a wand with a bag guard welded to the end of the wand to prevent the bags from being sucked into the conveying line.
Mobile conveyor systems raise the receiver to load auger fillers, mixers, reactors, and other processing and packaging equipment, and then lower the vacuum receiver back down to ground level for easy and safe cleaning and maintenance.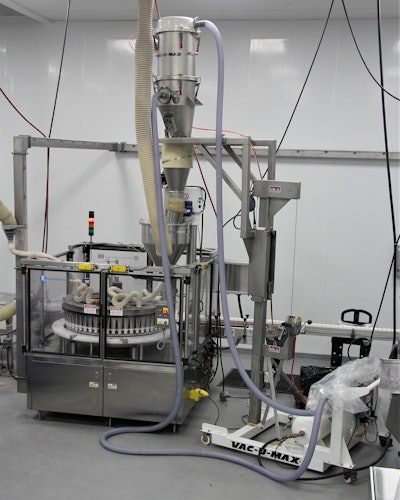 "The Vac-U-Max systems are simple to operate and maintain," Simeon says. "They have no problem keeping up with our standard use rates of 1,000 lb/hr for our stick pack and pouch filling lines and up to 3,000 lb/hr for our rotary fillers."
The venturi-powered mobile conveyors at the facility conform to Food Safety Modernization Act (FSMA) sanitation regulations and require no tools or special mechanical skills to disassemble for product changeover. Venturi-powered units have no moving parts and do not generate heat within the packaging suite. Because there are no moving parts, maintenance in minimal.
"Maintenance is easy," Simeon says. "It is just a matter of changing out the filter once in a while and the system is ready to go."
Cleaning with mobile conveyors
Cleaning is also much easier and safer, Simeon says. "With mobile vacuum conveyors, there is significant cost savings on changeover and assembly," he says.
Vitaquest uses segregated production suites and industry best cleaning practices throughout its manufacturing and packaging operations, performing comprehensive cleaning and sanitization of a production line between each product changeover. A rotating schedule of cleaning and production reduces time and maintains a constant flow of finished product. In this dynamic environment, five to 10 production lines undergo cleaning while the other lines remain operational.
Cleaning and maintenance are both always safer, more efficient, and effective when performed at ground level. This is especially critical in industries where stringent FDA and USDA sanitary regulations lead to frequent extended downtime for cleaning.
Most packaging and process machines need to be filled from the top, with a feed opening that could be as high as 10 ft above the ground. While that is easily achieved with a vacuum conveyor, if it's permanently installed above the packaging machine, all maintenance (e.g., filter changing and cleaning for product changeover) must be performed at that elevated location requiring the use of a ladder, scissor lift, or mezzanine.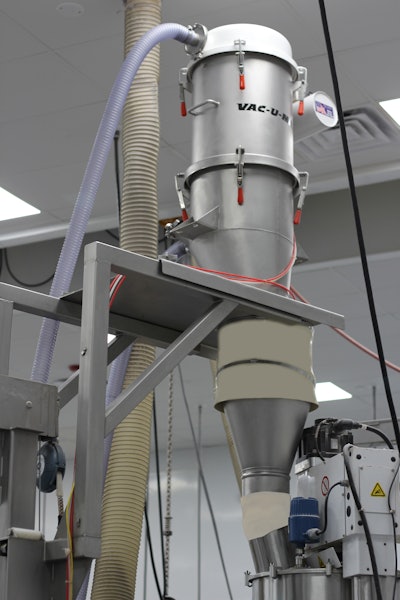 Some machines, like rotary fillers, have open-top carousels, which can complicate the cleaning process if it takes place where a conveyor is rigidly installed above it. Any debris, tools, or loose parts that drop while cleaning can fall into the carousel, further complicating the changeover process.
With mobile units, rolling the conveyor away from other machinery and lowering the receiver allows simultaneous cleaning of both the conveyor and machine—instead of one after the other.
New blender loading system
Vitaquest plans to implement Vac-U-Max's Direct-Charge Blender Loading system to load its 125 ft3 vee blenders, as well as its ribbon blenders. Direct-charge blender loading is a unique adaptation of vacuum transfer, designed specifically for the direct-charge loading of blenders, mixers, reactors, and any vessel capable of withstanding a vacuum.
With a facility's blender or mixer as the primary receiver, the conveyor manufacturer configures systems specific to each application, providing the power source, filters, controls, and adapters. The new system to load the vee blender will reduce safety and ergonomic concerns from excessive ladder climbing for manual loading. It will increase blender throughput by reducing the loading time, and it will be a much cleaner operation than manually dumping ingredients into the blenders from the mezzanine.
Currently, the ribbon blenders are loaded with flexible screw conveyors, which can degrade the ingredients and take a significantly longer time to clean during changeovers. "The new Vac-U-Max conveyors will eliminate an entire step in charging our blenders," Simeon says. "It will save us a ton of time and extra manual labor the moment it is installed and increase safety."
Vitaquest tends to go to Vac-U-Max whenever it's adding equipment because it is the fastest turnkey equipment to feed both new and existing equipment, Simeon says.
Vac-U-Max is also responsive to feedback. "I was here when we got the first mobile conveyor, and each time we purchase a new system, it is better than the last."
Companies in this article