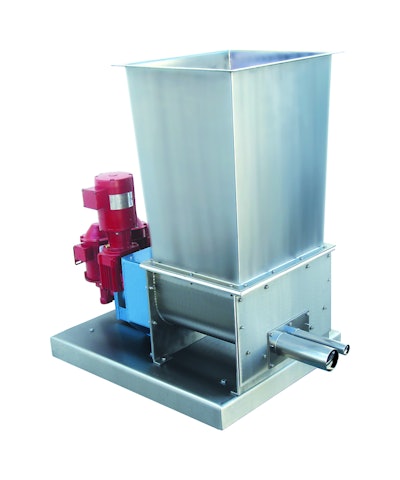 This content was written and submitted by the supplier. It has only been modified to comply with this publication's space and style.
The Acrison Model BDF-1.5-2 high-performance volumetric feeder incorporates two independently driven metering augers with a dual-agitator, flow-inducing mechanism to provide highly versatile metering and hoppering capabilities over an exceptionally wide feed range. Suitable for both continuous and batching applications, the Model BDF-1.5-2 feeder eliminates the undesirable, if not burdensome, task of changing the size of the metering auger whenever a wide feed range is required. Additionally, the Model BDF-1.5-2 feeder provides both high (rapid feed) and low (dribble) feed outputs for batching applications. In a batching mode, a larger metering auger feeds the majority of the material for the selected batch weight, and a smaller metering auger provides the final "dribble" amount, so that the highest degree of batch cut-off accuracy can be achieved.
The unique design of Acrison bin discharger feeder (BDF) totally eliminates any type of convergence that could prove detrimental to product flow and feed. Opposed multiple auger/agitator action plus substantially increased gravity flow into the wide-throat inlet to the feed chamber combine to ensure a smooth, gentle, and unrestricted movement of even the most stubborn-handling materials.
Available with a wide range of options, including quick-disconnect and sanitary construction to satisfy FDA and USDA codes, the Model BDF 1.5 feeder can also be used as the metering mechanism of an Acrison Model 402X "Weight-Loss Differential" weigh feeder.
Companies in this article