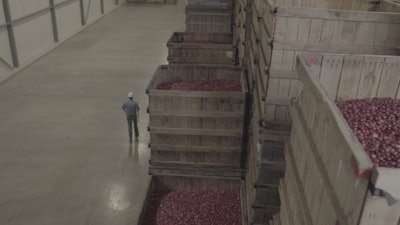 Photo courtesy of Danfoss
With a typical harvest period of just four to six weeks in late fall, Canneberges Bécancour has to take advantage of every day available. In fact, it's one of the most productive cranberry farms in North America, processing about a half million pounds of cranberries a day during the harvest season.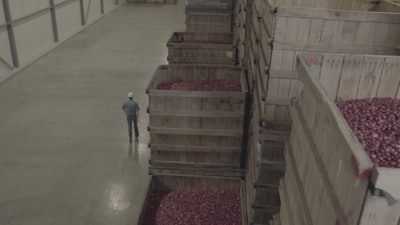 But it's also important that Canneberges Bécancour make haste in getting those cranberries out to customers from its farm and processing plant in the Bois Franc region of Quebec, Canada. "Once harvested, cranberries need to be delivered over significant distances in a short time frame," says Bob Hampson, one of Canneberges Bécancour's founding partners. "Unfrozen cranberries that face long transit times can pose serious challenges and risks to the distributors."
Because of this, Canneberges Bécancour called years later on Hampson—who had sold the cranberry business back in 2009—to help develop a freezing facility to support the original 17,000-sq-ft processing plant. Hampson drew on his experience with his family-owned cold storage business, working together with Luc Decubber, Canneberges Bécancour's general manager, to decide on a refrigeration system, and then eliciting help from Carnot Refrigeration to develop a system with optimum efficiency.
"If the berries could be frozen at the site of harvest before they are shipped across North America, the logistics become much more manageable and the risk is significantly reduced," Hampson says.
Energy efficiency and environmental benefits
As they considered a refrigeration system, Hampson and Decubber focused on three key considerations: The system could not use halocarbons, it could not use ammonia, and it needed to be able to run without skilled refrigeration operators.
---
---
"We did not feel as though halocarbons were a good choice for the environment or atmosphere," Hampson says. "Plus, practically speaking, given the global political pressure to eliminate them, it didn't make good business sense to use them in this new facility."
Ammonia is a more environmentally friendly and efficient material, but Hampson and Decubber were concerned that even a small leak could ruin an entire crop of cranberries—as much as 25 million pounds at its peak. "Additionally, the town fathers were averse to the construction of an ammonia facility," Hampson adds.
An ammonia/CO2 system was considered early on. However, in addition to the local restrictions on ammonia, it was a prohibitively complex system. Canneberges Bécancour wanted something simpler to operate.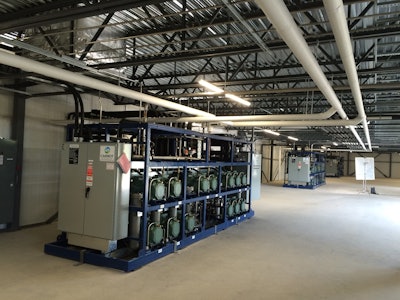 System requirements included 100% CO2 refrigeration; 400 tons of refrigeration (TR), primarily freezers; maximum energy efficiency, including minimal time in supercritical mode and maximized heat recovery; and fully automated controls. With guidance from Carnot Refrigeration, the team ultimately decided on a CO2 refrigeration system that would be operated in subcritical mode on most cooling days and in supercritical mode only when necessary. The system design also would enable heat recovery for underfloor heating, space heating, and process water.
"When Luc and I found Carnot Refrigeration, we were pleased to learn they had already constructed two other industrial facilities using CO2 refrigeration systems in Quebec and had good experience with the type of system we were looking to use," Hampson says.
Learnings from food retail
Carnot has deep roots in the food retail industry, but has since broadened into industrial refrigeration facilities, as well as data center cooling. With the experience in food retail, Carnot was able to offer a system that best served Canneberges Bécancour's requirements. "Transcritical CO2 has a well-established place in the food retail industry," notes Marc-Andre Lesmerises, CEO of Carnot Refrigeration. However, its extension to industrial applications has been limited primarily because of a lack of knowledge about the systems and also established ideas about industrial refrigeration, he adds.
---
---
The approach to the design is akin to rack systems used in supermarket refrigeration. Three rack systems were developed for the cranberry freezing facility, each containing 13 reciprocating compressors. Carnot uses all high-pressure components in its package: 120 bar (almost 1,800 psi) on the high side of the system, and 80 bar (almost 1,200 psi) on the low side of the system. This eliminates the need for a backup or "stand-still" condensing unit in the event of power failure.
The system also depends on Danfoss ICM TS expansion valves to expand the high-pressure supercritical CO2 gas to a cold, lower-pressure, two-phase fluid. "We have been using Danfoss valves in our systems from the beginning of our endeavor into transcritical CO2," Lesmerises says. "Not only are the valves extremely reliable, but Danfoss has extensive expertise in both industrial and commercial refrigeration—as well as in using CO2—that has helped us to design and implement very successful and efficient systems."
An RC Intelligent Recovery System allows the refrigeration system to go beyond simple heat recovery by using the available energy for heating applications. In addition, each unit can be converted from a cooler to a freezer and vice versa.
The results
Canneberges Bécancour needed the facility to be completed within six months. Ultimately, they were able to complete the work in just 17.5 weeks. The installed cost for the entire refrigeration system and machine room was about $4,000/TR, and the nominal design power consumption about 2.2 kW/TR—both well within the normal range for industrial refrigeration systems.
Expanding its plant to double production capacity, Canneberges Bécancour planned to use similar 100% CO2 refrigeration systems from Carnot Refrigeration. "I've been associated with cold storage and freezing for most of my career, and I've never seen a better refrigeration system than this one," Hampson says.
Companies in this article