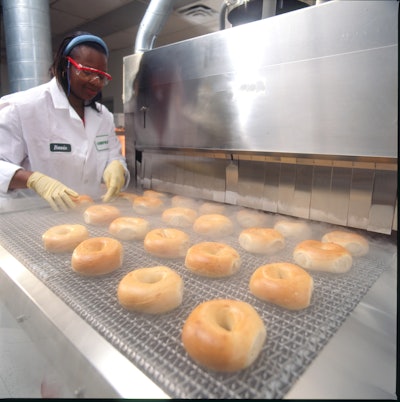 Located 20 miles outside of Chicago in the suburban town of Burr Ridge, Illinois, Praxair's food lab was created to enhance the knowledge and understanding of freezing applications and technologies for the food industry. This lab is not a pilot plant. It focuses on quantitative research that can help improve process productivity.
Praxair offers the lab service as part of its sales process for its gases and related equipment. The service helps customers develop freezer size recommendations and provides technical support to Praxair's sales and engineering teams. The food lab often conducts thermal analyses on customers' products and demonstrates freezing equipment operation and performance to visiting customers. It can also validate performance in the field and assist customers when they are evaluating new technologies. The fully-equipped food lab features commercial-scale equipment for testing and demonstrations and provides a data-driven process for equipment selection.
The Praxair food lab offers expertise in thermal analysis of foods, heat transfer rates and thermal conductivity in foods. Analysis tools in the lab include a quantitative thermal analyzer, water calorimetry, data logger and a historical database of thousands of tested products.
During ProFood World's visit this fall, demonstrations on liquid nitrogen freezing, liquid CO2 freezing, tunnel freezing, spiral freezing and CO2 snow applications were presented.
According to Praxair, cryogenic freezing and chilling can maintain product quality, texture and appearance; increase yield; boost productivity; improve product handling; address food safety issues; and reduce labor costs.
Companies in this article