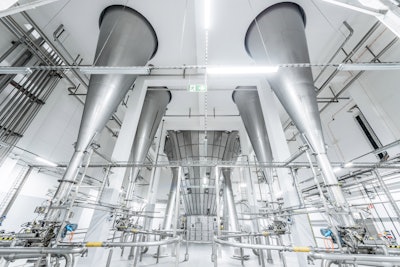 This content was written and submitted by the supplier. It has only been modified to comply with this publication's space and style.
Spray drying uses a constant stream of hot air to manufacture high-quality, stable powders. As the heaters supplying that flow usually operate on fossil fuels, they emit high levels of CO2. In a milk powder processing plant, the spray dryer is responsible for up to 70% of the overall heating requirements. But all the heat input into the process is eventually released at low temperatures as waste.
Based on high-temperature heat pumps, GEA AddCool is a patent-pending solution that can be integrated into an existing powder spray drying process. By cutting the plant's overall heating requirements and costs, it makes production processes more sustainable.

The GEA AddCool system uses CO2 heat pump technology to recover waste heat from the exhaust air or other plant cooling processes. That energy is upgraded and used to warm the air in the spray dryer up to 120°C before feeding it into the dryer's conventional heating setup.
First, warm water flows through an evaporator containing liquid CO2, which absorbs the water's heat as it vaporizes. In passing through a compressor, the gaseous CO2 is further pressurized, resulting in a commensurate rise in temperature and transferable energy. This energy is transferred to a water loop, which is used to heat up the air in the spray dryer. As a result, the CO2 refrigerant cools again and moves through an expansion valve that reduces the gas's pressure, further lowering its temperature. Then, the cycle starts all over again. The advantage is that hot air for use in the dryer is produced at the same time as cold water, which can be channeled to chillers elsewhere in the plant, thus reducing electricity consumption.
Since the GEA AddCool heat pump system works as an addition to the native spray dryer air heating system without impairing plant throughput, final powder properties or quality, it can be easily retrofitted into conventional plants. Additionally, the option of reverting to the original setup during routine maintenance means that the spray dryer can continue powder production uninterrupted.
Ulrik Lund Jakobsen, CEO of GEA Business Unit Powder & Thermal Separation Technologies, says, "GEA AddCool technology is a real milestone in energy conservation. During the more than five-year development process, our experts in engineering, heat pump systems, spray drying and powder processing collaborated closely to overcome the challenges associated with designing the CO2 heat pump technology while simultaneously planning its integration into existing spray drying plants."
Companies in this article