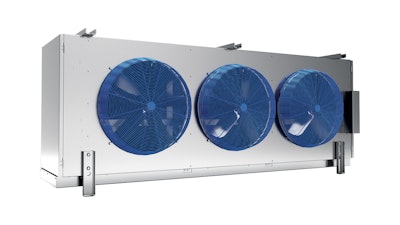 Heatcraft walk-in unit coolers are reliable and efficient, with a focus on serviceability. The walk-in unit coolers operate using glycol or CO2 refrigerants. Available in low-profile, low-velocity center-mount, center-mount, and medium-profile styles, Heatcraft walk-in unit coolers are ideal for food prep areas and small to medium-sized cold rooms.
Heatcraft warehouse unit coolers provide extended capabilities required by large industrial cooling/freezing and cold storage applications. Built on a rugged, durable chassis, these models feature installation- and service-friendly features for contractors and technicians, such as composite hinged and removable access panels, easy service motor mount, and a hinged drain pin. They are available in air, electric, and hot gas defrost versions.
Heatcraft unit coolers are a "future-proof," environmentally friendly choice. CO2 is an ideal refrigerant for low-GWP adoption due to its natural characteristics. With a GWP of 1, the refrigerant in Heatcraft CO2 unit coolers will remain insulated from regulatory phaseout in the decades to come, regardless of future regulations.
Companies in this article