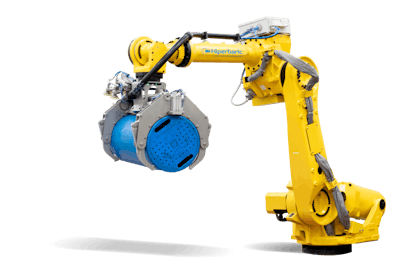 Prior to high-pressure processing (HPP), Hiperbaric loading tilting stations allow an automatic flow of products into the HPP baskets. Pre-feeders then automatically load the baskets into the HPP vessel, which eliminates the need for manual loading.
During the process, RFID tags and data matrix codes placed on the HPP baskets can help manufacturers track inventory, automate setup, and provide strict traceability and reliability, ensuring that all products are processed.
After HPP, an unloading robotic HPP station removes products from the basket. Then, shaker conveyors remove excess water on packaging, and robotic arms can pick single or multiple items to pack single or multiple cases per cycle. Other material handling equipment includes custom carriers, carrier carts, elevators, turntables, and tote-dumpers, which can improve production efficiency and operator safety.
Hiperbaric develops and implements fully automated solutions for high-pressure processing equipment. It also designs, manufactures, and supplies customized, flexible solutions for the automation of HPP equipment, including material handling and Industry 4.0, for food and beverage products.

Companies in this article
Videos from Hiperbaric - High Pressure Processing