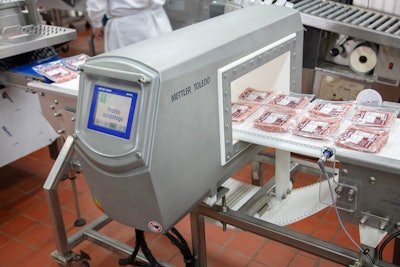 Photo courtesy of Mettler-Toledo Safeline.
Tradition and technology mesh well at Longhini Sausage Company. The New Haven, Conn.-based company says it has stayed true to the handcrafted sausage-making techniques and high standards created by its founder 70 years ago—and it has paid off. Longhini has grown steadily over the years, generating 80% growth over this past year alone. To ensure that it continues to grow, Longhini has installed two Profile Advantage metal detectors from Mettler-Toledo Safeline—technology designed to automate its inspection process and protect the quality of its products and brand heritage.
Italian immigrant Vito Longhini opened Longhini Sausage Company in 1950 in New Haven. He learned sausage making from his father in Fano, Italy, in early 1900s, bringing that knowledge with him to the United States. Today, the third-generation, family-owned company continues to make specialty sausages and other meats using those traditional techniques and all-natural ingredients. The company sells its products to restaurants, delis, and supermarkets in Connecticut and New York.
While Longhini Sausage Company says it has never had any issues with metal contaminating its meat products in its 70-year history, it did not want to take any chances now that it is seeing increased demand for its products. The company sought a metal detector that could automate its inspection process and go beyond standard baseline inspection to find metal fragments smaller than industry requirements.
"Our application is difficult for most metal detectors. Meat products have natural variations in temperature and moisture, plus our wide range of case sizes presents a variation in product density. Products with variable characteristics are hard to accurately inspect," says Rich Longhini, president of Longhini Sausage Company. "To overcome these challenges, we had to find an unusually advanced metal detector."
Unlocking the power of versatility
Longhini Sausage Company purchased its first Profile Advantage in 2015. To maximize versatility, the company selected a semi-automated, stand-alone system on wheels that could be moved around its facility to inspect products in cases offline.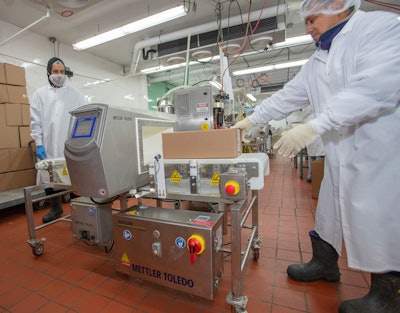 Then, to increase throughput, the company purchased a second Profile Advantage on wheels in 2019, but this one is rolled around and integrated with various lines throughout the facility to fully automate inspection. This new inline metal detector inspects thermoformed packages that range in size from 6 oz to 1 lb and tray packs that range in size from 5 lb to 10 lb. With the inline metal detector in place, the first offline Profile Advantage system now exclusively inspects cases between 5 lb and 40 lb filled with either bulk sausages or tray packs that the inline system does not inspect.
According to Longhini Sausage Company, Profile Advantage metal detectors provide the sensitivity and reliability it needs for product inspection. Compared to single-frequency systems, Profile Advantage discerns changes due to the presence of metal versus natural variations within the product by using multisimultaneous frequencies to create a reference point. This advanced operation maximizes sensitivity while virtually eliminating false rejects when inspecting all kinds of products.
"One of our favorite Profile Advantage features is the product clustering capability, which allows us to run many similar products under the exact same setting. We can almost always lump new products together under existing product settings," Longhini states. "We also like the auto setup routine. With it, our operators can easily add totally new products or recalibrate in less than five minutes."
In addition, Longhini praises the dependability of its Profile Advantage systems. "They haven't had any unplanned downtime at all and have been entirely maintenance free. We test them a few times a day, which is why we know they're consistently sensitive across our different products and packages," he adds.
Just as important, the Profile Advantage metal detectors help the company meet food safety requirements and regulations. "These metal detectors give us hard evidence that no metal is in our products," says David Kemp, CEO of Longhini Sausage Company. "Longhini is known for producing the highest quality meat products to the market. Our Mettler-Toledo metal detectors are essential for protecting our reputation."
Other stories about metal detectors that you may be interested in reading:
Systems for end-to-end food quality and safety
Tackling the challenging nature of hard-to-inspect tortillas
Reducing metal detection false rejects caused by product effect
Companies in this article