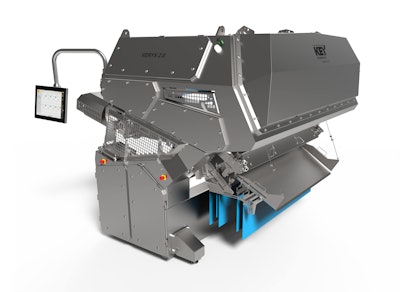 This content was written and submitted by the supplier. It has only been modified to comply with this publication's space and style.
Key Technology, a member of the Duravant family of operating companies, has introduced a Veryx digital sorter for fresh-cut, hydroponically grown leafy greens.
"Demand for hydroponic leafy greens is skyrocketing for a variety of reasons—superior taste, minimal water usage, zero pesticides, and production location flexibility, since environmentally controlled greenhouses can be built virtually anywhere," says Marco Azzaretti, director of marketing at Key. "Hydroponic greens are a premium product, typically costing two or three times the price of traditional, field-raised greens. Hydroponic growers must consistently achieve the best quality to meet their customers' high expectations. They want every single leaf to be perfect. This is why they partner with Key."
Veryx is the only belt-fed leafy greens sorter that can inspect product entirely in-air with top and bottom sensors to see all sides of the product with no blind spots, enabling Veryx to eliminate more FM and defects. Analyzing the color, size, and shape of every object in the product stream, Veryx removes imperfect, misshapen, discolored, bruised, broken, or torn greens. To better identify difficult-to-detect FM and defects, Veryx can be equipped with Key's proprietary Pixel Fusion technology, which combines pixel-level input from multiple cameras and laser scanners to create a unique, unambiguous "signature" for each type of substance in the product stream.
Log in to view the full article