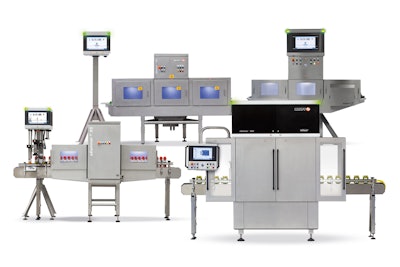 Top-down inspection or from the side, below, or different perspectives at the same time—with one, two, or several height-adjustable, flexibly orientable X-ray flashers—allow the Heuft eXaminer II series of foreign object detectors to provide complete quality inspection of packages filled with food, such as thermoformed trays, tins, stand-up pouches, or jars.
The end-of-line systems have pulsed X-ray technology, which achieves more sensitivity with a considerably extended lifetime, together with smart Heuft reflexx A.I. image processing. X-ray tubes have been specially developed, and other X-ray components have been carefully refined. The user is automatically informed proactively long before they can fail so preventive maintenance is possible. The filament is integrated twice. If one of them fails, the other one takes over immediately—completely automatically, without manual intervention. The X-ray pulses, which are short by the millisecond and are emitted only when a product to be inspected is actually in front of the respective X-ray flasher, cover larger packaging areas and penetrate larger quantities of product at the same time.
In contrast to conventional continuous beam systems, there is no emission of X-rays either in gaps in the production flow or in stop situations. New full-field image converters with a significantly extended lifetime also increase the coverage and sensitivity of the unique pulsed X-ray inspection. In addition to reliable glass-in-glass or metal detection, the targeted identification of weaker absorbing foreign bodies, such as bone fragments in petfood or plastic particles in yogurt pots, becomes even more precise with unrivaled low radiation.
In order to clearly distinguish them from harmless product and packaging structures, the Heuft reflexx A.I. combines completely self-developed hardware and software for high-resolution real-time image processing with validatable artificial intelligence (AI) for a targeted object detection and classification, as well as a teach-in based on human experience. The user thus always has the option of modifying the AI's judgment and teaching unknown objects, which are initially assessed as defects in principle, as good and uncritical for product and packaging safety into a multidimensional feature space, so only products that are actually contaminated with dangerous foreign objects are rejected.
Further detection modules, such as a 360-deg closure inspection, or marking verification can be integrated in an uncomplicated manner.

Companies in this article