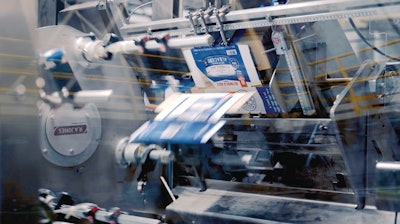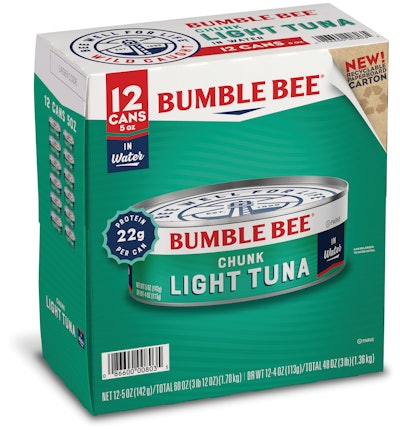 The iconic Bumble Bee Tuna brand went through a highly publicized transformation in recent years, being led out of bankruptcy by then-CEO Jan Tharp in 2020. It emerged with a fresh brand identity, complete with an enterprise-wide commitment to sustainable practices. As a seafood company, it only makes sense to be a good steward of the ocean harvest you take to market, but this was no small undertaking. Read more about it or visit its website to view a PDF of the company's recent report: Seafood Future – 2022 Sustainability Impact and Progress Report.
Predictably, packaging came under scrutiny during this brand revolution. At that point, multipacks for just about every brand and variety of canned seafood had long used robust, printed shrink bundling film, capable of tightly containing heavy cans of seafood in the formats we still see on retail shelves, like a 4x2 8-pack of 5-oz cans. Bumble Bee was no exception in using this pack style, since shrink bundling was (and continues to be) a capable method of multipack delivery that withstands the supply chain well. Bumble Bee's most common formats were 4-, 6-, 8-, 10-, and 12-pack cans, either 5- or 7-oz, interchangeably called shrink bundles or cluster packs.
Specific to the Bumble Bee facility in Santa Fe Springs, Calif., shrink film was applied to build shrink bundle packs by a 25-year-old shrink overwrap machine that was on its last legs. The company couldn't secure good support for such an old model, and it was frequently causing downtime on the line.
Log in to view the full article