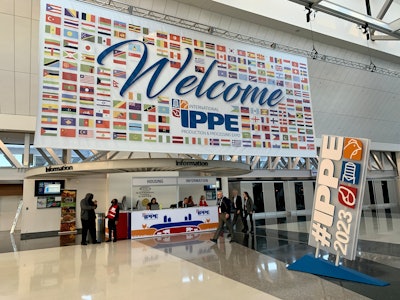 Michael Costa
The 2023 International Production & Processing Expo wrapped up recently in Atlanta, where approximately 28,000 attendees had a firsthand view of innovative equipment and new technology for protein processing and packaging. More than 1,180 exhibitors were set up across 533,000 square feet, and here are some of the many highlights we saw at the three-day event.
Van der Graaf rolled out its new hygienic SSV-XP drum motor, designed with an exchangeable profiled sleeve enabling different styles of modular conveyor belts to be used with the same drum motor. Take a look at the video below to see the sleeve exchange in action.

Sealed Air and subsidiary Cryovac debuted their new energy-efficient, multi-component bagging/vacuum seal/shrink tunnel packaging system that works with the company's smart packaging material. Check out the speedy, automated bulk meat bagging in action at the front end of this new system in the video below.
---
---

Mettler Toledo showcased its Safeline X-ray and combination X-ray/metal detection systems, plus several other inspection solutions for processors. The company's combination systems are particularly useful for manufacturers with limited footprints.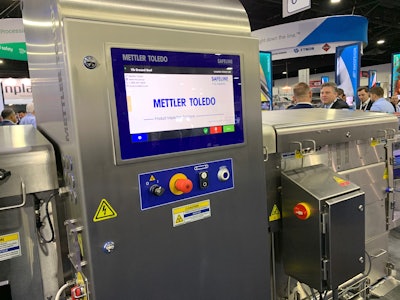 ---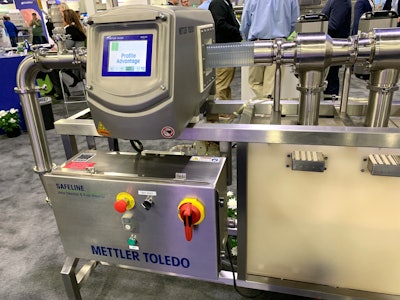 Limited footprints—and labor savings—are also the inspiration behind Ensight's robotic palletizer on display at the show. Ensight also manufactures supporting equipment like conveyors that go around this palletizer, making the company a one-stop shop for processors seeking end-of-line solutions.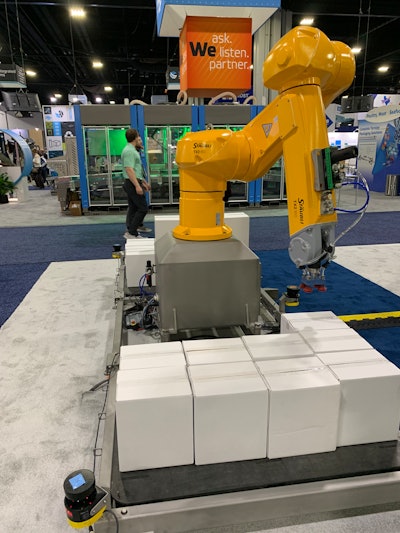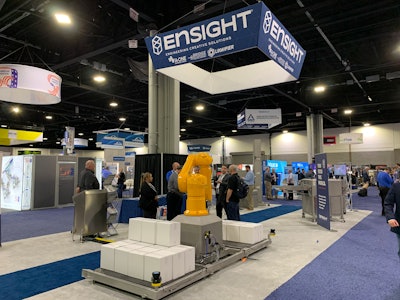 Remote monitoring of equipment on the plant floor has become a must-have feature since the pandemic, and Linde is right on trend showcasing its new CRYOCONNECT RM remote monitoring system at the show, which gives plant managers online access to freezer data wherever and whenever is most convenient, so freezer operations can be analyzed to maintain optimal performance.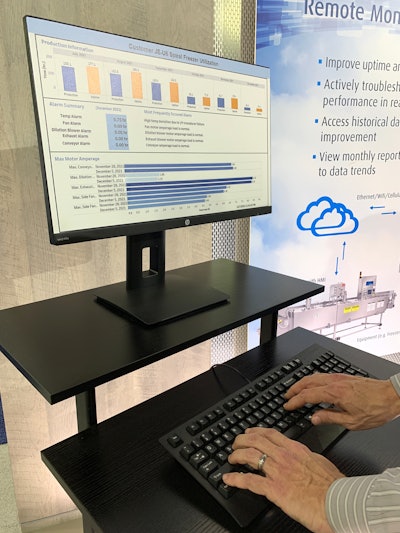 Speaking of freezing, Messer highlighted two of its nitrogen-chilled freezing systems at the show: their bottom-injection blender, and their high-velocity tunnel freezer, which creates a wind-chill effect inside the tunnel--freezing items faster--and 50% more volume freezing within the same footprint as a standard tunnel freezer.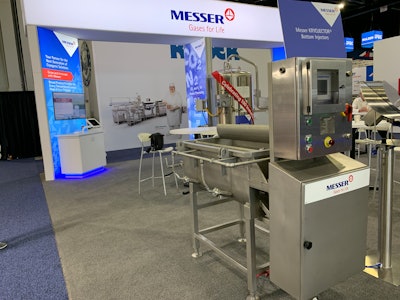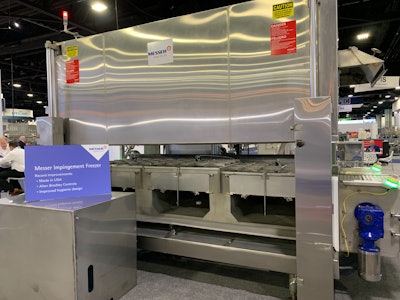 GEA debuted its new SmartPacker CX 400 machine, with its built-in Smart Sealing system. The SmartPacker is developed specifically for frozen foods like meat, seafood, and meat alternatives, packed in pillow and gusset bags. The Smart Sealing system uses special metal tapes in the sealing area, eliminating the need to replace Teflon tape on sealing jaws. It also features a more powerful and efficient sealing mechanism that cuts packaging waste and cost over time.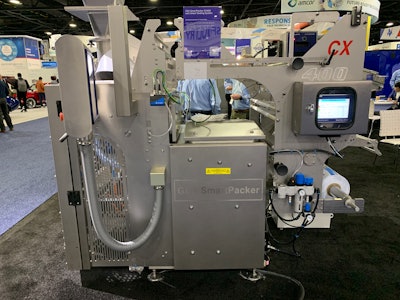 Water conservation is an ongoing goal for food processors, and the PSSI/Safe Foods Cyclean system can help meet those goals by treating and reusing wash water, helping processors reduce their costs and increase food safety. Cyclean conforms to the USDA-FSIS requirements for water reuse systems found in 9 CFR 416.2. Cyclean can also be monitored in real-time and reuse performance analyzed to maximize efficiency.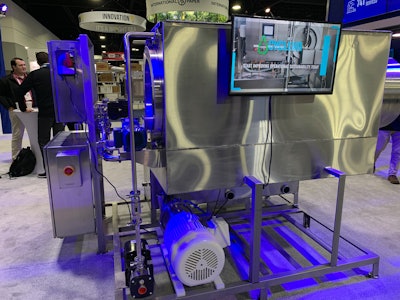 SEW Eurodrive showcased its line of stainless-steel gear units and gear motors, specially designed for environments requiring the highest hygiene standards--like meat processing--and manufacturing areas subject to frequent cleaning.
FPS (Food Process Solutions) highlighted its FPS Remote Monitoring System (FPS RMS) which is a web-based, universal platform that helps processors track, analyze, and generate trend, training, and maintenance reports for their FPS freezers in real-time.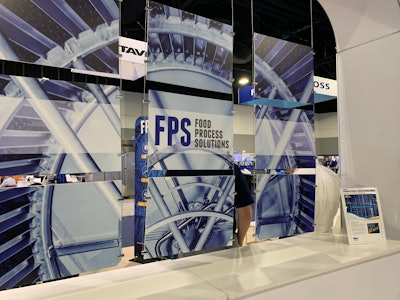 The Handtmann HVF 670 was showcased at the Handtmann booth as a whole-muscle, high-vacuum solution for meat processors. The HVF 670 produces nearly air-free products and ideal cutting surfaces on whole-muscle cuts of meat, while maintaining the whole-muscle structure and producing exact portions.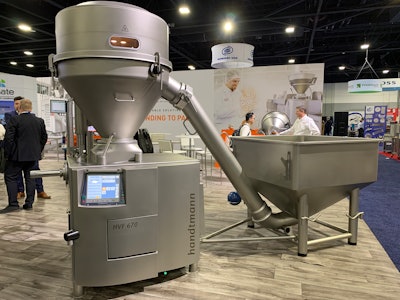 The Provisur VerTex 660 is ideal for mid-capacity meat processing lines, and is versatile enough to handle a variety of meat processing applications, including ground, formed, sliced, and portioned products, whole muscle and bone-in meats, and even pet food and treats for the burgeoning pet food market.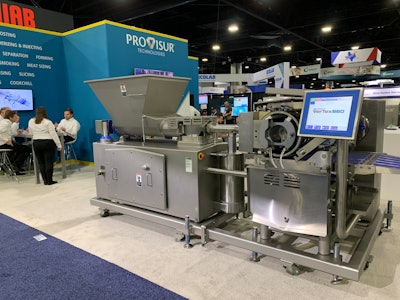 Brand new at IPPE this year is the Nowicki/BAK all-in-one spiral freezer and smoker. The freezer can apply liquid smoke to a piece of meat before freezing, or freeze and dry surface moisture off of a piece of meat for traditional ambient smoke applications, or a combination of both liquid and ambient smoke. The machine was too big to bring into the Georgia World Congress Center, but a Nowicki representative at the booth mentioned there are currently three of these new spiral freezer/smokers in use in the U.S., with more installations expected this year.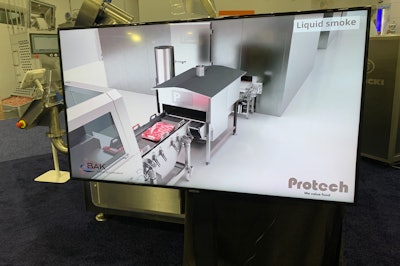 Companies in this article