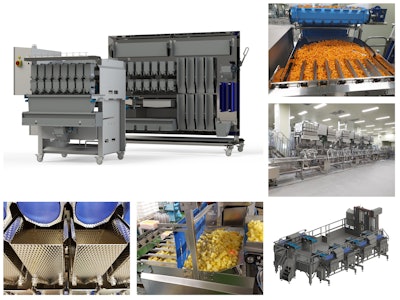 The Newtec 2008PCM mini weigher has become a popular choice for accurate, high-speed weighing of a range of processed food products, such as fresh and dried fruit, snacks, and frozen foods. Newtec considered a wide range of parameters for the 2008 PCM mini weigher technology, such as the handling of small and mixed products, and gentle processing that preserves the quality of the product, as well as machinery that is easy to maintain and clean.
In addition, Newtec's mini weigher provides a sustainable solution for working with large product quantities, with a minimal giveaway of less than 0.4%, and a small footprint, which makes it easier to handle and connect to other mini weighers. Its small footprint (as a standalone or a line with more machines connected) also makes possible the preservation of space with a much stronger reliance on flexible and automated machinery for the same production rates.
Mini weigher efficiency enables maintaining production levels, while delivering fresh quality fruit, thus supporting sustainability practices for the industry. Customer reliance on product quality is therefore not compromised by the speed of production, but benefits through being enhanced by high-capacity processing, minimal product waste, and delivery of local produce to the wider community.
The 2008 PCM machine can run a single unit, or it can be networked to run multiple products. Each machine is a combination weigher, giving high accuracy at up to 70 portions per min from 50 to 500 g.
The machine can switch from four- to three-mix, etc., in a matter of minutes and back again, making small runs more cost effective. On a four-product mix, three products are individually set to a given weight, and then the fourth product can be used to top up to the target weight required.
Companies in this article