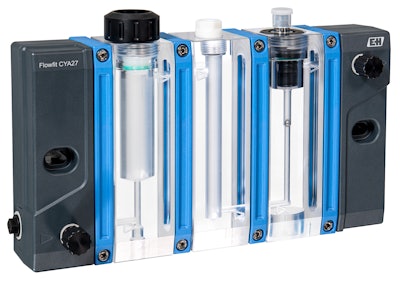 The Endress+Hauser CYA27 flow assembly is freely configurable, accommodating a wide range of sensors. It also offers flow monitoring and diagnostic indicator options to ensure reliable measurement, covering a variety of disinfection applications.
The new modular flow assembly enables measurement of up to six parameters in process and drinking water, enabling adaptation to many process requirements. The CYA27 provides a flexible basis for the measurement of disinfection parameters, including chlorine, chlorine dioxide, ozone, bromine, and further parameters of liquid analysis, such as pH, ORP, dissolved oxygen, and conductivity.
The assembly features a status light that provides clear indication of the measuring point's operational state. The light can be used to display flow status, showing a red light if the flow is too low, or it can be connected to a transmitter's alarm relay to indicate the NAMUR status of the measuring point. This informs operators of process conditions at a glance, helping optimize production and mitigate potential problems.
Companies in this article