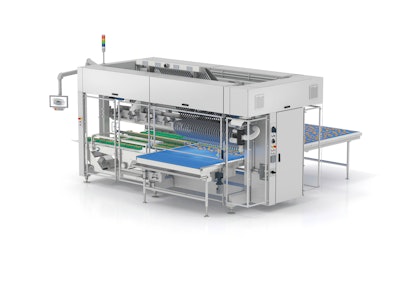 The Syntegon IDH flexible pick-and-place machine not only ensures gentle product handling, it also offers a compact design, along with high output and the option of loading different products both flat and on-edge.
The linear motor bar forms the heart of the new machine, as Philipp Kathan, lead engineer IDH at Syntegon, explains, "With a nominal 30 cycles per minute, the bar's up to 40 pickers pick the products from the process belt and place them into a flow-wrapper infeed or into trays. Thanks to the slow and smooth movements of the linear motor movers, cookies and crackers are handled with minimal mechanical stress and vacuum application—preventing breakage or damage to the product surface and ensuring optimal production efficiency."
The IDH picks the cookies directly from the process belt to keep the transport distances between the oven and the packaged product as short as possible, thereby reducing abrasion.
An integrated camera-based vision system detects the position and shape of the cookies and crackers on the infeed belt and transmits this information to the picker control system. It identifies different product patterns or random arrangements and processes them reliably. Each picker can be aligned individually to ensure all products are placed into trays or the infeed chain correctly. An integrated mini buffer automatically fills incomplete product rows.
The number of vacuum pickers can be adjusted depending on the respective product and production volume. When integrated into horizontal packaging lines, the Syntegon IDH also provides high pack style flexibility.
Companies in this article