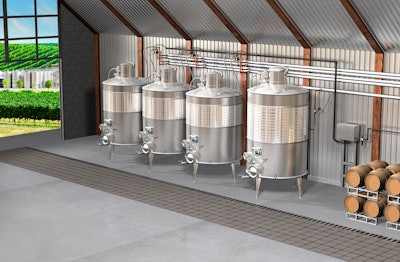 Whether you're a dairy producer, craft brewer or winemaker, you need to make sure your beverages maintain high levels of quality, taste and consistency to keep up with consumer demand, according to Amit Patel, product marketing manager for fluid control and pneumatics, at Emerson Automation Solutions. The key lies in how well you control the temperature during heating and cooling processes, all which play a critical role in pasteurization, sterilization, cooking, fermentation and many other beverage applications.
"Optimum temperature control requires the right valve system to precisely control heating and cooling parameters," Patel states. "Too often, valves experience short service lives and other performance issues that can cause temperature fluctuations—compromising beverage quality and costing you precious time and money."
The challenges of upgrading temperature control systems
Many beverage production facilities use jacketed tank systems to control temperature. In alcoholic beverage industries, for example, these systems use propylene glycol—a nontoxic liquid media that flows through the thermal jackets surrounding the fermentation tanks, says Patel. "In a closed circuit, the glycol is pumped through a chiller, where it is cooled, and then flows back down through the jackets, cooling the tanks and their contents," he explains. "Not only does temperature affect the speed of the fermentation process, but it also affects the taste and quality of the final beverage."
Because fermentation is a vital process for many beverage operations, it's no surprise beverage makers want to install or upgrade their tank cooling and heating systems. "But these modifications don't come cheap, nor are they without their challenges," says Patel. Many facilities, particularly smaller operations, have limited physical space. As a result, tank systems need to be positioned as close as possible to each other to maximize floor space and remain accessible during maintenance—making innovative yet costly tank designs a necessity.
According to Patel, other challenges include:
● The high cost of energy. Energy is one of the largest overhead costs in the food and beverage industry. Because fermentation is considered a wet environment, beverage makers also need to have additional electrical safety features in place.
● Lengthy piping processes. Depending on the size and number of tanks, the labor required for piping and wiring can be costly and very time-consuming. In addition, maintenance and upkeep become all the more complex—extending potential downtime.
● Potentially unreliable yields. For wineries, in particular, any issues that compromise batches during extended fermentation periods equate to several years' worth of lost time, materials and cost.
How choosing the right valve can help
In addition to ensuring precise temperature control, proper valve selection can address the challenges associated with installing, maintaining and upgrading heating and cooling systems, saving equipment space, conserving energy and optimizing productivity, explains Patel. "Depending on your system, it's also important to select valves that are rated to handle certain media—like glycol or ammonia," he adds.
Whether you're spending too much time on piping, or you're a startup operation with limited resources and space, the right supplier can help you select the right fluid automation product to meet your unique needs, says Patel. "In addition to their reliability and durability, high-quality products provide extended service life, which can maximize your uptime during every precious minute of beverage-making processes," he explains
According to Patel, beverage manufacturers can choose from the following valve solutions.
---
See it Live at PACK EXPO Connects Nov. 9-13: X-ray Inspection and Industry 4.0, by Peco InspX. Preview the Showroom Here.
---
Two-way valves. Two-way valves are a traditional, tried-and-true valve type for heating and cooling systems. These high-flow solenoid valves come in a range of pressure ratings, sizes and resilient materials like brass or stainless steel, providing long service life and low internal leakage. Many feature low electrical consumption and are mountable in any position—boosting their installation flexibility in tight or limited configurations. Look for an IP65 rating for use in fermentation and other wet environments.
Next-den valves. Next-Generation solenoid valves include several electrical enhancements, achieving even greater energy savings and longer service life. Look for valves that incorporate power management circuits, as well as electrical surge suppression to both the solenoid and electronic controls. These features result in energy savings that can lower your total cost of ownership by 14 percent.
In addition, these valves accept both AC and DC voltages without sacrificing flow or pressure specifications—increasing DC performance up to 500 percent by today's industry standards. Because the valve's DC characteristics now rival AC pressure and flow values, you can eliminate AC output cards to simplify control, reduce wiring costs and provide safer working environments for DC users.
Other notable features and benefits of Next-Gen valves include:
● AC hum elimination
● Expanded AC and DC operating temperatures
● Low solenoid temperature rise—extending product life
● UL, CSA and CE approvals and RoHS 2 compliance
Angle body valves. Air-operated, direct-acting angle body valves are ideal for aggressive and high-viscosity fluids. Many models feature a straight-through design and wide range of advanced options, including a signaling box, compact positioner for proportional control and stroke limiter. These valves are the preferred alternative to diaphragm and ball valves. They allow tight shutoff in both directions and contain no bleed holes, eliminating the chance of glycol plugging that can cause tank temperature fluctuations. They are also one-third the cost of ball valves and last up to 10 times longer. Many angle body valves are designed to handle back pressure, eliminating the need for check valves, and feature a rugged, stainless steel body that resists sulfur vapor in processes like winemaking.
Six-port valves. Comprised of two actuators, six-port valves provide you with the benefits of the traditional angle seat valve in a single body design. Thanks to its design, you can use one valve body to control both hot and cold supply and return flows—reducing installation time and your overall bill of materials. These valves are robust, compact and easy to install. They may also come with remote position indication.
Controlling temperature automatically
In addition to proper valve selection, it's important to consider automating your heating and cooling systems to achieve even greater thermal precision. For example, the G3 Electronic Fieldbus Platform makes this process quick, simple and painless. G3 integrates communication interfaces and input/output (I/O) capabilities into your pneumatic valve manifolds—allowing your PLC to more efficiently turn valves on and off, as well as channel temperature data from resistance temperature detector (RTD) sensors. Compact and modular, G3 includes a range of innovative features to enhance your operation, including a graphics display for easy commissioning and fault diagnosis, as well as compatibility with a range of industrial communication protocols, including Ethernet, PROFINET, DeviceNet and many others.
Valves along with the G3 automation platform provide a single solution that overcomes many of the challenges preventing beverage makers from installing, expanding or upgrading their heating and cooling systems. In addition to saving space, conserving energy and improving critical uptime, this combination delivers the peace of mind that comes with knowing your beverages—no matter the style, flavor or blend—are achieving only the highest levels of quality, consistency and taste.
For more information visit https://www.emerson.com/en-us/industries/automation/food-beverage
---
See it Live at PACK EXPO Connects Nov. 9-13: Fast, Simple, Toolless: Unscrambler Changeover Demo, by Omega Design Corporation. Preview the Showroom Here.

---
Other articles you may be interested in:
Prep Now as PACK EXPO Connects Presents Preview Week
Smarter Food Safety Relies on More Data, Compute Power
McCormick's Compressed Air Upgrade Provides Excellent Energy Savings
Companies in this article