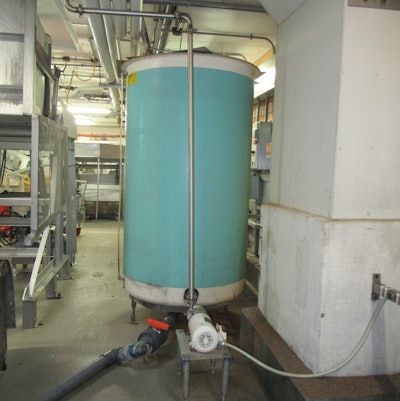 In 2018, Smithfield's hog processing facility in Sioux Falls, S.D. was using close to 100 million gal of water per year. But today, a small investment in a new tank system and pumps has paid dividends for the facility. The new equipment includes a round 300-gal storage-to-tank system that receives cold water that is then pumped by a Fristam FPX-702 pump with a Baldor 5 HP 3,600 rpm motor. It feeds a Travaini TRH Liquid Ring vacuum pump driven by a 15 HP 1800 rpm motor, and then recirculates back to the tank, allowing the facility to reuse the water.
Completed in just three months in 2019, this project reduces the need for city water used in the processing facility by about 5.15 million gal per year, allowing the city to instead use this water for approximately 145 residents annually.
"The ROI on this project was less than one month," states Charles Schulz, environmental coordinator for Smithfield Foods. "The cost of both purchasing city water and then treating the clean water in our wastewater system is $0.0062 per gal. The project cost was $6,000, and the water saving cost is $31,917.60 annually."
This project came about from a Smithfield Ideation Project to find areas in all facilities that can reduce the use of single-pass water for reuse elsewhere. "We have a total of five vacuum pumps that will be switched over to this process, which greatly reduced the water use in a single-pass system," Schulz adds.
After some investigation, the facility saw that the amount of clean city water going to the wastewater treatment plant could be reduced. Schulz says the only challenge was finding a spot for the water-recycle tank and then plumbing the tank to the vacuum pump. At the end of the day, a small investment in equipment and labor resulted in monetary as well as environmental savings.
For this project, Smithfield Foods received a third-place honor for its Sioux Falls, S.D. facility in the Program Category of ProFood World's annual Sustainability Excellence in Manufacturing Awards. The awards ceremony will be held at PACK EXPO International in November 2020.
Other sustainability articles you may like:
Smithfield Foods Facility Reduces Solid Waste by 10 Million lbs
Continuous Energy Improvement at Hiland Dairy
Sustainability Update: COVID-19 Changes the Plastics Conversation, but CPGs Still Innovating
Companies in this article