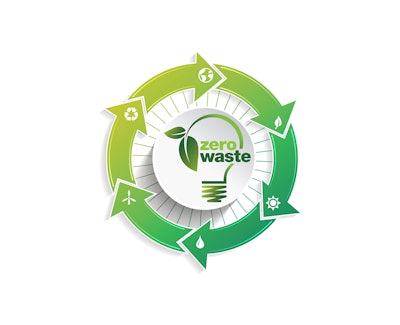 Addressing the low-hanging fruit of sustainability potential in food and beverage manufacturing has been a much-discussed topic for more than a decade. But in today's era of increasing transparency, the discussion and implementation of these projects has become even more of a necessity.
Each year, ProFood World uncovers the leading projects undertaken by food and beverage facilities across North America with its Sustainability Excellence in Manufacturing Awards. The awards honor companies and individuals that seek to go beyond environmental compliance. The following award-winning projects were completed last year. All entries were judged by a team of food industry peers.
First Place, Program Category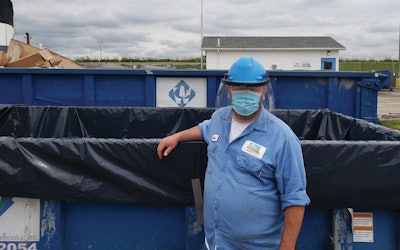 Smithfield Foods Facility Reduces Solid Waste by 10 Million Lb
When a customer of Smithfield Foods made a product specification request a few years ago, the environmental team at its Crete, Neb., facility, was ready for action. The facility's wastewater solids were dewatered via a centrifuge and then processed in the rendering operation. The customer's change meant these solids were no longer approved to be part of the cooker feed stream. As a result, the facility was landfilling tons of material. Collecting, loading, and hauling the solids was a labor-intensive and costly operation, causing a significant increase in solid waste from the facility.
At first, it was difficult to find a vendor that could handle the amount of wastewater solids generated, says James Garr, wastewater supervisor for Smithfield Foods. And frequent hauling costs added to the expense.
With assistance from Waste Connections, a recycling provider, the facility found a composting operation, Soil Dynamics, in Omaha, Neb. This operation accepts and processes the high-volume waste stream, and it evaluated and accepted bedding, smokehouse ash, and other organics that were previously landfilled.
Completed in just three months and implemented in February 2019, the project yielded more than 9.6 million lb of solids waste reduction per year.
---
See it Live at PACK EXPO Connects Nov. 9-13: PouchLab, R&D center open to the packaging industry to test, analyze, and achieve your sustainable ideas. by Volpak. Preview the Showroom Here.
---
"The project was transferrable to other facilities from the beginning," says Jason Lindquist, director of environmental affairs for Smithfield Foods. Smithfield's Lincoln, Neb., facility was sending smokehouse ash to Soil Dynamics and had discussed it with the Crete facility on weekly environmental conference calls. Soil Dynamics also began hauling centrifuged wastewater solids from Smithfield's Denison, Iowa, facility, while the team in Crete was simultaneously arranging transportation and hauling logistics for wastewater solids.
After the project commenced, the Crete facility installed a conveyor system to bulk load wastewater solids that further reduced hauling frequency and handling.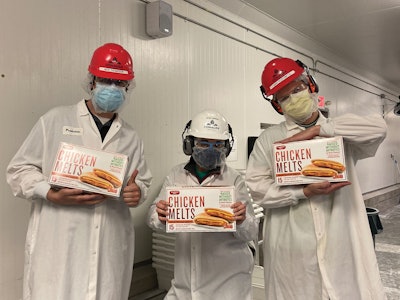 Second Place, Program Category
Conagra Brands Team Rectifies Cheese Loss
In September 2019, Conagra Brands' Milwaukee team initiated a program to limit cheese yield loss. Initially, identifying and justifying the project capital was difficult. Gathering, separating, and weighing cheese waste throughout various production processes appeared to be a daunting task.
But through an intense process investigation, many loss points were identified and corrected. The team discovered that a large contributor to food waste was cheese miss-cuts, and it rectified the problem through editing standards, optimizing run settings, and conducting preventive maintenance on machinery. This program resulted in approximately $530,000 in annualized savings and the avoidance of 130 tons of edible cheese waste per year. Also as a result of the program, the facility was able to increase production with the same amount of incoming ingredients.
"In the three months prior to the program implementation, the site would have produced close to 1,900 tons of solid waste," says Tracy Kayhanfar, senior director, environment. "Through continued efforts, the plant is now saving 130 tons or almost 7% of total waste produced by the facility per year. With an initial investment cost of $111,545, the solution yielded annual savings of $537,055, with a [return on investment] of less than a year."
The program is part of a problem-solving process that is being implemented across all Conagra Brands manufacturing facilities. The issue at the Milwaukee facility was identified during regular yield loss and operations meetings at the plant as well as comparisons with a similar sister facility.
Conagra Brands is committed to diverting waste from landfills as well as reducing its total waste footprint. By implementing corporate best practices, the Milwaukee facility achieved the highest tier in EPA's Waste Management Hierarchy for source reduction and reuse.
---
See it Live at PACK EXPO Connects Nov. 9-13: Fresh Market Blueberry Optical Sorting, by WECO The Science of Optical Sorting. Preview the Showroom Here.
---
"We were able to remove over 32 tons of solid waste that would have gone to landfill over the first three months of the program," says Xiomaris Mendez, manager of plant continuous improvement. "Also, there are intense greenhouse gas emissions associated with the production of dairy products, and by limiting our waste of these products, we are reducing our total emissions footprint."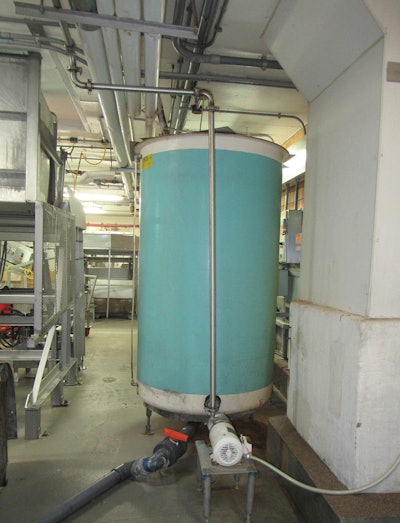 Third Place, Program Categorty
Water-Reduction Project Results in 5 Million Gal Saved for Smithfield Foods
In 2018, Smithfield's hog processing facility in Sioux Falls, S.D., was using close to 100 million gal of water per year. But today, a small investment in a new tank system and pumps has paid dividends for the facility. The new equipment includes a round 300-gal storage-to-tank system that receives cold water that is then pumped by a Fristam FPX-702 pump with a Baldor 5 HP 3,600 rpm motor. It feeds a Travaini TRH Liquid Ring vacuum pump driven by a 15 HP 1,800 rpm motor, and then recirculates back to the tank, allowing the facility to reuse the water.
Completed in just three months in 2019, this project reduces the need for city water used in the processing facility by about 5.15 million gal per year, allowing the city to instead use this water for approximately 145 residents annually.
"The [return on investment] on this project was less than one month," states Charles Schulz, environmental coordinator for Smithfield Foods. "The cost of both purchasing city water and then treating the clean water in our wastewater system is $0.0062 per gal. The project cost was $6,000, and the water saving cost is $31,917.60 annually."
This project came about from a Smithfield Ideation Project to find areas in all facilities that can reduce the use of single-pass water for reuse elsewhere. "We have a total of five vacuum pumps that will be switched over to this process, which greatly reduced the water use in a single-pass system," Schulz adds.
After some investigation, the facility saw that the amount of clean city water going to the wastewater treatment plant could be reduced. Schulz says the only challenge was finding a spot for the water-recycle tank and then plumbing the tank to the vacuum pump. At the end of the day, a small investment in equipment and labor resulted in monetary as well as environmental savings.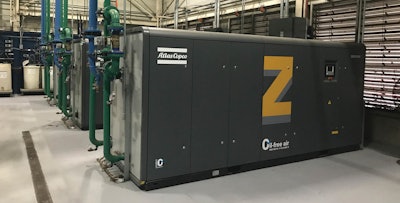 First Place, Project Category
Compressed Air Upgrade at McCormick Provides Excellent Energy Savings
At McCormick & Company's Hunt Valley, Md., plant, the compressed air system was previously comprised of two 9-year-old compressor-dryer systems. The facility recently replaced this system with four new compressors and dryers that incorporate best practices in energy efficiency.
Initially, the project's return on investment was not attractive based on simple payback, Sustainable Manufacturing Manager Jeff Blankman explains. "However, the equipment was at the end of its life and required replacement regardless of sustainability initiatives," he adds.
"The new system was upsized so it could also make compressed air for the company's Spice Mill, another manufacturing site adjacent to the Hunt Valley plant," states Blankman. "The new system has proven to be 30% more energy efficient than the old Hunt Valley plant system and 50% more efficient than the Spice Mill's old equipment."
The combined electricity savings between the two sites in fiscal 2019 compared to fiscal 2018 yielded cost savings of more than $300,000 per year. It also represents a greenhouse gas reduction of over 1,300 tons. In addition, the project received more than $1 million in energy-efficiency rebates from Baltimore Gas & Electric through the utility's Smart Energy Savers program.
---
See it Live at PACK EXPO Connects Nov. 9-13: Custom solutions for load containment, whether it involves stretch wrapping, strapping, or a combination of both, by Wulftec International Inc. Preview the Showroom Here.
---
The project could have been completed at a lower cost using less efficient equipment, but by going with best-in-class equipment, the project received $1 million in rebates. "The incremental payback to look at this project through a sustainability lens was excellent," Blankman says.
The $3.5 million project included all equipment, piping, and installation, but was offset by a one-time utility rebate from Baltimore Gas & Electric and a one-time Maryland Energy Administration grant.
This was the second McCormick site to install the same compressor-dryer system to maximize energy efficiency, with the company's Dallas site being the first installation in 2018. The size of the compressors was changed to adapt to the larger load at the Hunt Valley plant, but the approach was the same. After the Hunt Valley project, McCormick's London, Ontario, Canada, site became the third application of this approach in spring 2019, says Blankman. Two more sites in Gretna, La., and Springfield, Mo., are slated for 2020 and 2021, respectively.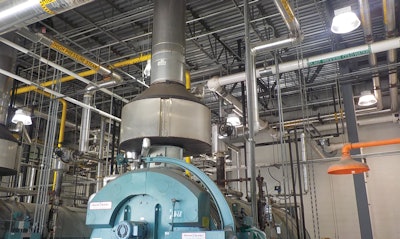 Second Place, Project Category
Smithfield Foods Lights the Way to Sustainability
Smithfield Foods is on a mission to replace high-intensity discharge lamps (HID) in all of its facilities. Once the company locked in the lowest price for LED light fixtures, its Kinston, N.C., facility began its replacement project. In fact, all Smithfield facilities are working on LED light replacement projects.
Back in 2018, the Kinston facility upgraded the lighting in its ammonia engine room to meet new International Institute of Ammonia Refrigeration standards. That upgrade was done with LEDs that provided more foot candles and safety. In the event of an emergency, hazmat teams would have instant-on lighting. This project helped to drive future LED light installations.
"By using a one-for-one replacement fixture, the installation was quick and easy," says Charlie Prentice, environmental coordinator for Smithfield Foods. "No extra hardware was needed. Using a one-man lift, our in-house electrician was able to easily remove the old fixtures and install the new fixture in a minimal amount of time." The new lights also have a 10-year warranty.
Because of some equipment locations, a one-person lift would not fit directly under some light fixtures. Smithfield left those fixtures for last and replaced them later when the facility rented an articulating lift for other projects, providing even more cost savings.
Smithfield's Kinston facility had 719 HID light fixtures, with the vast majority using 400-watt bulbs. LEDs use a fraction of the energy and produce many more foot candles. Because they produce instant-on lighting, they provide a safer environment for our employees, explains Prentice.
Forty-two fixtures were replaced at a cost $18,732, and the new energy savings from LEDs bring that cost down to $8,316 while also saving 119,206.08 kWh per year. The facility's energy reduction calculations are based on lamps burning 24/7 with a return on investment of nearly two years. "We expect to see a return in our investment in an even shorter time due to employees turning off lights as they leave a room," adds Prentice.
Smithfield set a goal of 5% energy reduction at every facility. "By replacing the high-energy-use HIDs with LEDs, we are driving down our total kWh usage each month," states Prentice. "As a company, we also have a very aggressive goal of reducing greenhouse gas emissions by 25%. The facility's reduced annual electrical consumption will help in a small way to reach that goal."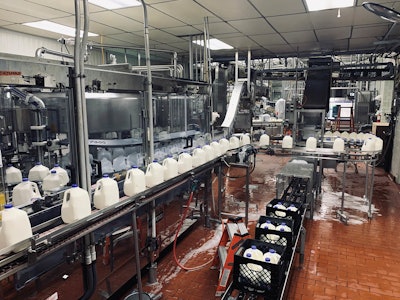 Third Place, Project Category (Tie)
Continuous Energy Improvement at Hiland Dairy
After implementing a continuous energy improvement project, Hiland Dairy's Norman, Okla., plant achieved an energy savings of nearly 1.1 million kWh or 12.2%. The energy saved is equal to the removal of 769 metric tons of greenhouse gas emissions or 1,134 single-family homes' energy usage for a year.
All of Hiland Dairy's processing plants have implemented sustainability efforts primarily through recycling and water conservation. Participation in energy savings goes hand in hand with those efforts and is another step in the direction for sustainability, according to the dairy processor. With Oklahoma electrical plants at full capacity and by reducing the dairy plant's energy, Hiland helps Oklahoma Gas & Electric (OG&E) avoid building new power plants and allows the utility company to keep electricity affordable for residents.
During 2017 and 2018, Hiland established a baseline of energy usage, then started and completed its energy-efficiency efforts in 2019. For example, in March 2019, the plant used 599,748 kWh, compared to 751,490 kWh in March 2017. In August 2019, the plant used 692,205 kWh, compared to 886,065 kWh in August 2017.
A retrofitted LED lighting system cost $110,000, but Hiland received $55,000 back from an OG&E grant. In addition, OG&E provides a 2-cent rebate for every kWh of energy saved, which amounted to $21,751.40 in 2019. Plus, $57,859 in annual savings were achieved due to reduced energy usage. "The grant, rebate, and energy savings made the cost of the project negligible," says Norman Plant Manager Steven Boydston.
Energy-management coaches suggested behavioral modifications, such as thermal and lighting controls, and engineering controls, such as reducing runtime on equipment through efficient measures. Other changes included updating the thermostat system from standard mercury to programmable digital thermostats, changing parameters on the refrigeration system, decreasing and increasing some parameters to reduce energy use of compressors, and using sunlight on bright days to harvest daylight and reduce usage of some lights.
---
See it Live at PACK EXPO Connects Nov. 9-13: Fully Automated Variety Case Packing Including Retail Ready Packaging, by Aagard. Preview the Showroom Here.
---
Hiland employees formed an energy team, wrote a charter, and started working on ways to satisfy recommendations. All dial points were set at exact numbers, and manufacturing-process refrigeration was set at a more appropriate degree. Energy team members were trained on how to use ultrasonic leak detector tools.
"A sense of teamwork was established at the plant," says Boydston. "The energy team is always thinking of ways that the plant can be more sustainable." Other Hiland plants have adopted similar programs.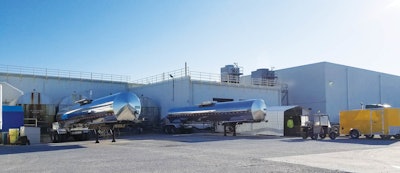 Third Place, Project Category (Tie)
Tanker Unloading Project Reaps Megabucks for Conagra Brands
In 2019, Conagra Brands' Saint Elmo, Ill., facility implemented an innovative way to more efficiently unload tanker trucks of corn syrup and oils. The new system eliminates ingredient waste, minimizes transfer costs, and results in fewer total tanker loads. The switch to air pressurizing the tankers, instead of using tanker truck pumps, resulted in nearly 100% of product to be emptied from each tanker load.
"This eliminated the costs of pumping, the fuel required for the pumps, and hot water needed to thaw the pump in the winter," says Casey Watts, manager of environment, health, and safety. "The system required new hoses, fittings, and pressure release valves, but for a facility that receives an average of 15 loads per day, the project resulted in an estimated $1 million of annual savings."
The supply chain sustainability team at the Saint Elmo plant reduced 18,000 gal of waste that can now be used in current production. The plant's vendor can use significantly less water and chemicals to sanitize the tankers as well as less transportation and fuel. "These effects are outside of our direct footprint, but are included in our holistic impact on the environment," says Tracy Kayhanfar, senior director, environment.
Waste reduction was realized through additional inventory after the switch because the tankers would haul away wasted food ingredients. If fact, 70-100 gal of food waste were left in the tankers per unload, with a typical day averaging 15 loads. In addition, the team was able to reduce tanker washing from daily to weekly and eliminate the pump cost of $200 per load.
"Eighteen thousand pounds of wasted ingredients per year is now being utilized," says Penni Pratt, manager of supply chain. "We identified this through recurring cost savings with management and collaboration with our vendor. We have been already passing this best practice along to all our other sites that use similar ingredients."
Read about the previous winners of ProFood World's Sustainability Excellence in Manufacturing Awards:
The business case for going green at Smithfield, McCormick, Campbell's, Land O'Lakes and Keystone Foods
Sustainability Excellence in Manufacturing … more than just an annual award
The quest for sustainability excellence
PACK EXPO Connects – November 9-13. Now more than ever, packaging and processing professionals need solutions for a rapidly changing world, and the power of the PACK EXPO brand delivers the decision makers you need to reach. Attendee registration is open now.
PACK EXPO Connects – November 9-13. Now more than ever, packaging and processing professionals need solutions for a rapidly changing world, and the power of the PACK EXPO brand delivers the decision makers you need to reach. Attendee registration is open now.
Companies in this article