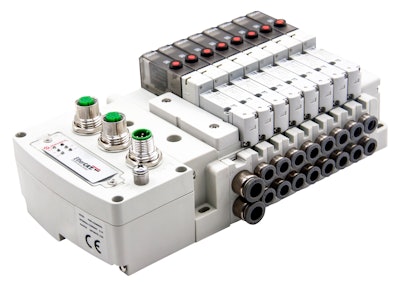 Norgren's extensive portfolio of VR series valve manifold solutions has expanded with a comprehensive array of connectivity options for industrial users.
Adding to the existing multi-pole connectivity option, the VR series now includes Ethernet/IP, PROFINET, EtherCAT, and IO-Link to support a wide range of customers connecting to new or existing systems. Using a connected valve, users can gain further performance insights on how their system is performing as a whole plus easier installation and less analog hardware.
With 10-mm and 15-mm valve manifold body sizes available, the VR series is a compact solution bringing flexibility and modularity. A simple plug-in, sub-base design allows valves to be exchanged quickly with up to 24 solenoids for prompt installation and no plumbing interruptions, while supporting ongoing maintenance requirements.
Other key features include:
      

Reliable operation with over 30 million cycles

       

Integrated silencers and fittings for simple connections

      

Horizontal and vertical orientation options




      

Lightweight, IP65-rated metal body for use in challenging environments
The enhanced VR series creates a simple, high-performing, and connected solution for industrial applications in sectors, such as food and beverage, packaging, material handling, and paper.
Product Manager Bradlee Dittmer states, "The connectivity enhancements to the VR series valve manifolds allows us to meet the growing demand for connected technology. Our comprehensive portfolio offers a wide spectrum of connectivity solutions from simple multi-pole to more complex communications, such as EtherNet/IP and EtherCAT systems. Linking the new VR series manifold range with Industrial Ethernet or IO-Link ensures engineers gain further data-driven performance insights for better operational efficiencies."
Companies in this article