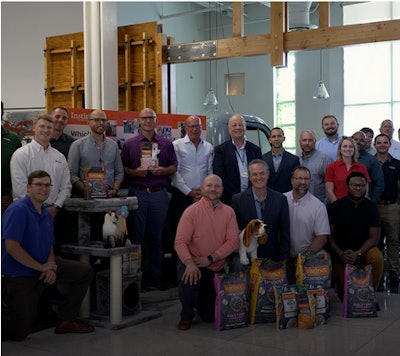 Gray, a fully integrated, global services provider for the food & beverage market and worldwide leader in the pet food industry, and Instinct Pet Food, a manufacturer specializing in high-quality, minimally processed pet food, are partnering on a new raw pet food facility.
To commemorate the new partnership, Gray hosted the Instinct Pet Food team at its Kentucky headquarters for a bell-ringing ceremony, a tradition embedded into the company's history that is still carried on today. For the ceremony, team members gather around and ring the office's large bell to celebrate a new partnership and project. The occasion celebrates what has been accomplished through teamwork as well as the exciting work yet to be done.
"Working with a customer like Instinct is a tremendous opportunity to advance the industry," says Brian Jones, president and CEO of Gray Construction. "The relationships at the center of this partnership are already creating a lasting impact for Gray."
Instinct selected Gray to design and build a new 235,000-sq-ft facility in Lincoln, Neb. To accommodate Instinct's raw pet food production, Gray is providing extensive front-end services, process engineering, and automation capabilities for this facility.
Once complete, the facility will serve as a Center of Excellence, providing best-in-show practices and tours for customers and partners.
"The new Center of Excellence will bring all of our raw manufacturing and raw processing in house and will be unparalleled in the industry for food quality, safety standards, and sustainability. Our plans should result in one of the highest levels of LEED certification for manufacturing facilities," said Bobby Harris, chief operating officer. "Our goal is to have a net zero carbon footprint with this building."
Companies in this article