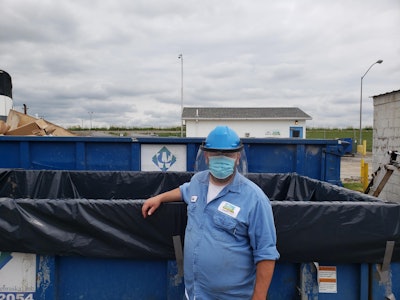 When a customer of Smithfield Foods made a product specification request a few years ago, the environmental team at its Crete, Neb. facility, was ready for action. The facility's wastewater solids were dewatered via a centrifuge and then processed in the rendering operation. The customer's change meant these solids were no longer approved to be part of the cooker feed stream. As a result, the facility was landfilling tons of material. Collecting, loading and hauling the solids was a labor-intensive and costly operation, causing a significant increase in solid waste from the facility.
At first, it was difficult to find a vendor that could handle the amount of wastewater solids generated, says James Garr, wastewater supervisor for Smithfield Foods. And frequent hauling costs added to the expense.
With assistance from Waste Connections, a recycling provider, the facility found a composting operation, Soil Dynamics, in Omaha, Neb. This operation accepts and processes the high-volume waste stream, and it evaluated and accepted bedding, smokehouse ash and other organics that were previously landfilled.
Completed in just three months and implemented in February 2019, the project yielded more than 9.6 million lbs per year solids waste reduction.
"The project was transferrable to other facilities from the beginning," says Jason Lindquist, director of environmental affairs for Smithfield Foods. Smithfield's Lincoln, Neb. facility was sending smokehouse ash to Soil Dynamics and had discussed it with the Crete, Neb. facility on weekly environmental conference calls. Soil Dynamics also began hauling centrifuged wastewater solids from Smithfield's Denison, Iowa facility, while the team in Crete was simultaneously arranging transportation and hauling logistics for wastewater solids.
After the project commenced, the Crete facility installed a conveyor system to bulk load wastewater solids that further reduced hauling frequency and handling.
For this project, Smithfield Foods received a first-place honor for its Crete, Neb. facility in the Program Category of ProFood World's annual Sustainability Excellence in Manufacturing Awards.
Other sustainability articles you may like:
Continuous Energy Improvement at Hiland Dairy
Sustainability Update: COVID-19 Changes the Plastics Conversation, but CPGs Still Innovating
Perdue Farms Creates Pollinator-Friendly Habitat
Companies in this article