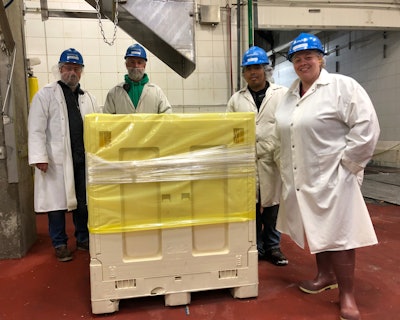 Early in 2021, Smithfield Foods' Milan, Mo., plant started sending out hams for further processing, transporting them in cardboard combos. The facility quickly realized it could save money and reduce cardboard usage by using reusable plastic combos.
Less than 30 days into the project, the plant ordered 720 plastic reusable combos. On average, the Milan facility ships 100 combos of hams per day. "Although 720 plastic combos are not enough to replace every cardboard combo we ship, it will reward us with a 50% reduction in cardboard usage," says Wes Maulsby, wastewater operator at the Milan facility.
The combo project's goal included:
Reducing greenhouse emissions (GHG) – Cardboard savings can be directly related to the release of methane, a GHG, as it breaks down in a landfill. Per ton released, methane will contribute to global warming at a pace more than that of carbon dioxide.
Reducing water usage – Using less cardboard creates less demand and reduces manufacturing water usage.
Reducing energy – Fuel sources to manufacture cardboard are no longer needed.
Reducing global warming – Deforestation is a huge contributor to global warming. The facility can save 17 trees per ton of corrugated cardboard savings, and every eight pallets saved will yield one saved tree.
Reducing landfill – For every ton of cardboard savings, landfill area can be cut by nine cubic yards.
The project was completed in the first quarter of 2021, when the Milan plant shipped the first hams for further processing. In February 2021, the facility received its first load of plastic reusable combos and, in March 2021, shipped the first load of hams in reusable combos.
---
---
The Milan facility expects to save more than $1.3 million over the next five years employing reusable combos.
"We use this mind set of reusable combos vs. cardboard combos whenever applicable," explains Maulsby.
But not all applications will accommodate the conversion to plastic combos. "When it can be used, it is very cost effective for this company and beneficial to our environment," he states.
Pitfalls may include logistics, Maulsby adds. "We have more than enough combos to ship all of our product on a seven-day rotation, if we receive our plastic combos back within that seven days. Logistics is key to keeping our plastic combos in circulation. If we can receive all combos back within a timely manner, we can easily increase cardboard savings."
Companies in this article