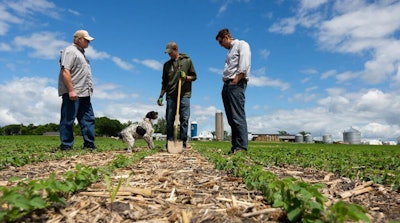 Hormel Foods, Target, and MBOLD, a coalition of Minnesota-based food and agriculture business leaders and innovators, are supporting an innovative agriculture pilot project that will focus on advances in soil health practices to improve water and air quality, sequester greenhouse gases, and increase farmland profitability. Hormel Foods and Target will provide $1.7 million for Minnesota farmers to participate in the pilot and adopt practices such as cover cropping, reduced tillage, and nutrient management. The goal is to enroll up to 50,000 acres.
The investments from lead sponsor Hormel Foods and participating sponsor Target demonstrate how companies with shared supply chains can join forces to accelerate the adoption of soil health practices to benefit agricultural producers who want to make their operations more economically and environmentally sustainable as the corporate buyers source products from improved climate change practices.
---
---
The pilot is a part of the Ecosystem Services Market Consortium's effort to launch a nationwide marketplace for agricultural carbon and water credits in 2022. Led by The Nature Conservancy, the Minnesota pilot program will build engagement with prospective purchasers of carbon and water credits to measure and demonstrate the impact of soil health practices on water, air, and carbon sequestration.
"Hormel Foods is eager to support and engage with growers to accelerate the adoption of regenerative agriculture practices and help strengthen Minnesota's economy, environment, and quality of life," says Mark Coffey, group vice president of supply chain for Hormel Foods. "We are committed to protecting water quality, reducing water use, and improving our renewable energy sources, as we recognize the importance of these actions in helping to mitigate climate change."
Companies in this article