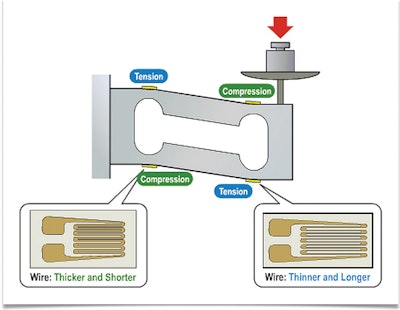 Recent technological advancements have made in-motion weighing operations more precise and profitable for food packaging operations. Typically, checkweighers used for food packaging prevent both underfilling and overfilling of products, resulting in brand protection and cost reduction due to less product giveaway, which is eliminated by a checkweigher's filler feedback technology. This usually results in a machine's return on investment (ROI) of well under a year.
The latest checkweighers incorporate weigh cells featuring electromagnetic force restoration (EMFR), according to Jim Renehan, senior marketing manager for Wipotec-OCS, a manufacturer and supplier of in-motion product weighing, X-ray scanning, product inspection, parcel dimensioning, package marking, and serialization and aggregation equipment. Wipotec-OCS's weighing, inspection, and track-and-trace solutions serve a broad array of industries, including food.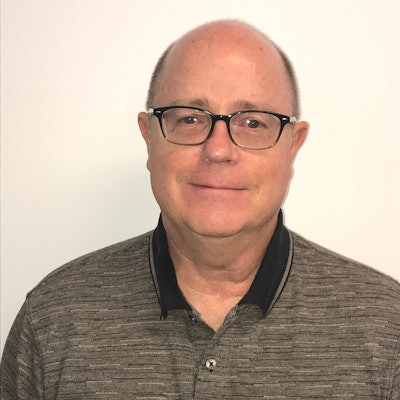 EMFR technology has proven effective in tough in-motion weighing applications, according to Wipotec-OCS. It eliminates the reliance on bending metal as a primary means of gathering weight data. The optical and electronic methodology approach employed in EMFR weigh cells results in faster settling times and captures more weigh samples as products move over the weigh cells. These checkweighers can deliver more accurate, repeatable weighing results at faster production line speeds compared to conventional strain gauge-based checkweighers.
In addition, active vibration compensation (AVC) is incorporated into some EMFR weigh cells to electronically reduce or eliminate the effect that low-frequency vibrations may have on the weighing results obtained by other checkweighers. These environmental vibrations are common in production facilities and warehouse distribution centers, typically with conveyors, mechanical sorters, forklift trucks, and other machinery.
PFW: Please explain how EMFR technology works.
Renehan: EMFR systems can be compared to a simple beam balance—though the intricacies are anything but. Incoming weight on the load plate causes the lever arm to leave its nominal resting position. A position detector recognizes this slight position change and forces a coil on the other side of the lever arm to move out of the magnetic field.
When this occurs, a photoelectrical beam recognizes any minute deviations in the lever arm position and immediately sends its findings through a measurement resistor, transforming this data into a digital signal via an analog-to-digital (A/D) converter.
The resulting digital weight value is determined by an advanced digital signal processor at exceptionally fast speeds with an internal sampling rate of 1 ms, or 1,000 weight values per second. The weigh cell's digital signal processor output is sent to the interface connection on the checkweigher or another third-party OEM device or machine.
With their quick sampling rates, EMFR-based weigh cells enable extremely accurate weighing results that provide space and cost savings when integrated into existing systems. They also possess high throughput rates, suitable for high-speed checkweighers that can capture product weights at rates up to 600 units per minute. Small and mid-range checkweighers with EMFR-based weigh cells offer attractive price-to-performance ratios, and all EMFR scales deliver increased plant efficiency, thanks to precise and reliable weighing results.
PFW: What are the benefits of EMFR technology?
Renehan: Compared to conventional strain gauge scales, EMFR weighing offers a number of benefits. When compensating for a dead load, traditional strain gauge-based checkweighers require a stiffer load cell to process the weight. With strain gauge checkweighers, the resolution of the weighing range declines. Since many load cells like the one illustrated in Figure 1 rely on a relatively large amount of metal bending, they all exhibit a spring-like operational behavior called "ringing." These types of cells cannot tolerate fast weight changes, because the ringing action must be compensated within the load cell. Dead load weight also needs to be compensated.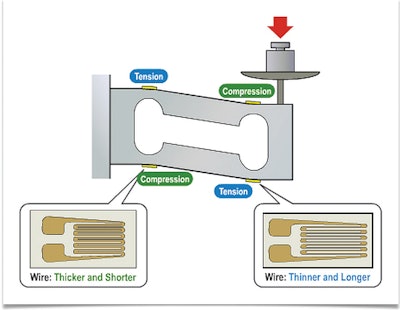 Since EMFR weigh cells do not rely on large degrees of metal deflection, ringing is not a major concern. EMFR scales balance dead load with far less cumbersome software commands, keeping the weighing range available and the resolution intact.
When measuring dynamic performance, EMFR checkweighers have a short settling time and active attenuation provided by the electronic controller, while preventing sensitivity and resolution from changing. This eliminates the need for constant calibration checks. As seen in Figure 2, strain gauge checkweighers generally possess less effective dampening oscillatory systems and a higher resonance frequency when settling, while the stiff load cell reduces sensitivity and resolution, requiring consistent calibration and maintenance.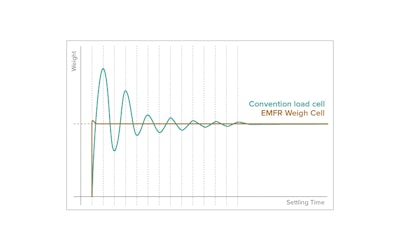 By contrast, EMFR scales are faster, more efficient, and more precise, and require less maintenance than conventional weigh cells. Since EMFR modules accurately acquire product information faster than a load cell, more weight samples per unit of time are achieved. This is one of the reasons EMFR-based checkweighers provide more precise product weigh information at faster throughput speeds.
PFW: Can you provide an example?
Renehan: The EMFR weigh cell in the checkweigher types, shown in the photo below, is frequently found in the center of the machine, just under the centrally located weight bed conveyor. Checkweighers used in food packaging applications take advantage of the high sample rates of EMFR weigh cells to deliver accurate package weights at throughput speeds as high as 600 packages per minute.
This allows the checkweigher to make quick reject decisions if an item is over- or underweight. Frequently, checkweighers in food packaging applications are placed after the package filler. This allows the user to take advantage of the checkweigher's filler feedback technology. If the checkweigher sees a series of over- or underweight measurements, the filler feedback loop enables automatic adjustments to the filler to bring the package fill weight back into the acceptable tolerance range. This capability prevents expensive product giveaway errors in the case of package overweight conditions, or dissatisfied customers and/or product recalls due to product underweight situations.
Multiple EMFR weigh cells are also incorporated into belted checkweigher designs. The compact design possible with EMFR weigh cells makes it a good choice for food packaging applications. The custom checkweigher shown on the left was designed for a cheese packaging application. Each of the five belt lanes has an EMFR weigh cell under the individual weigh bed conveyors, and they operate somewhat independently of each other. However, per the customer's request, if one package is over- or underweight, then all five packages in that batch are rejected.
Also notice the metal detector incorporated into this multitrack checkweigher design. In food packaging applications, it is common to see a checkweigher integrated with a metal detector. The metal detector interface is controlled using the machine's common HMI, which controls both the checkweigher and metal detector functions for simplified operation. Like the checkweighing function, if any one package is found to have metal present, then all five packages in that batch are rejected.
PFW: What is AVC, and how does it enhance EMFR technology?
Renehan: AVC is based on fast-sampling (FS) EMFR technology and is an electronic method of removing the key portion of the ambient noise spectrum from a product weight signal using internal software tools. These noise sources are commonly found in factory and warehouse environments and include conveyor sorters and forklift trucks.
In just about every distribution warehouse, all available space is used. This means that there are multi-level sorting conveyors placed on mezzanines, and often, the dynamic industrial scale or catchweigher is mounted off the ground in one of these vertical mezzanine levels. Super-rigid mounting platforms are necessary for the dynamic scale to reduce vibrations; an AVC-equipped scale can be mounted using less expensive mechanical mounting options, because the weigh cell will compensate for the vibrations electronically.
Similar mounting advantages come into play with checkweighers equipped with EMFR weigh cells with built-in AVC used in food packaging quality control. Combining EMFR weigh cell technology with AVC sensors enables accurate product weight measurements.
A typical AVC implementation involves two weigh cells located inside the EMFR housing, where one of the cells senses ambient vibrations of a certain frequency range.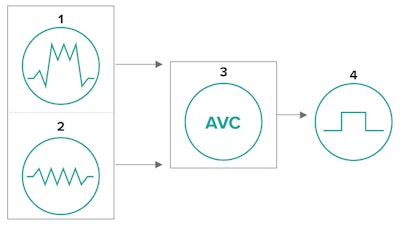 PFW: How does AVC work?
Renehan: As illustrated in Figure 3, two weigh cells are mounted inside one EMFR housing; one weigh cell measures vibrations including the load to be weighed (1), while the other measures vibrations only (2). Vibration-based interfering variables are calculated by comparing the two measurement curves in the signal processing section of the EMFR weigh cell (3), where the major vibration components of the load signal are removed. Due to the FS technology, we are able to deduct the disturbing signal from the load weight signal and come up with a "compensated weight value." The resultant measurement signal is very close to a load signal that would be achieved without any influence through vibration (4). This final weight measurement signal shows a major reduction, if not complete removal, of the negative effects caused by interfering vibrations present in the in-motion checkweigher installation environment. Unlike filtering technology common in strain gauge-based weigh cells, the AVC approach used in Wipotec's EMFR weigh cells is unaffected when the disturbing signal (i.e., vibration component) occurs within the same frequency range as the information signal or load weight signal.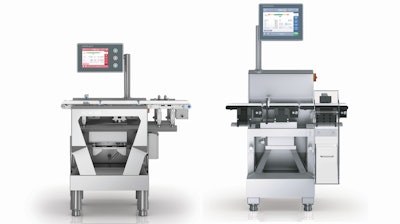 PACK EXPO Las Vegas and Healthcare Packaging EXPO (Sept. 27-29, Las Vegas Convention Center) will reunite the packaging and processing community, offering new products, technologies and solutions, while implementing up-to-date protocols for a safe and successful in-person event. Attendee registration opens in May.
Companies in this article