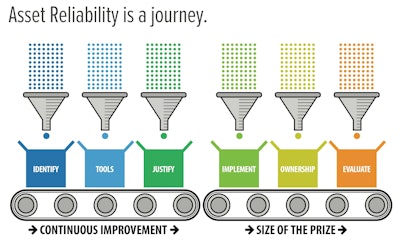 Asset reliability is the focus on planned and unplanned downtime reduction—or, put another way, "Is the machine doing what it is supposed to do, when it is supposed to do it?"
The OpX Leadership Network, in conjunction with PMMI, The Association for Packaging and Processing Technologies, and the FSO Institute, recently released a work product called "Asset Reliability Roadmap for the Consumer Products Industry," created to assist with calculating asset reliability and improving communications between CPGs and OEMs during this process.
The work product focuses on the relationship between overall equipment effectiveness (OEE) and three key performance indicators (KPIs) for asset reliability: people, operating, and financial. It provides an asset reliability "roadmap," as well as a calculator, to help quantify the total value of asset reliability to an organization by determining missed opportunities, in addition to the potential value gained by improving the reliability of a line and reducing unplanned downtime.
As the report states, seeing maintenance as more than just a cost of doing business but rather a tool in meeting desired and expected performance in the asset and financial expectations is key to seeing positive and effective results in profitability and requires ownership from all levels in an organization.
Download this free OpX work product.
The Processing Zone Returns to PACK EXPO
PACK EXPO Las Vegas 2021 (Sept. 27-29, 2021, Las Vegas Convention Center) will feature the return of the Processing Zone and solutions from food processing/systems, food safety, engineering, design and construction services, and more. Attendees from industries such as baking and snack, beverage, meat and poultry, dairy, and fruit and vegetable can once again start their search for front-of-the-line processing solutions—while continuing to solve their packaging challenges.
The Processing Zone will showcase operations-improving and newly unveiled technologies for attendees to assess and compare solutions for current projects while inspiring future projects, all in one trip. Walking the aisles, connecting with colleagues, and meeting new people offer attendees the opportunity to discover solutions they didn't even know they needed.
Manufacturing's essential role during the pandemic shed a spotlight on new technological needs, which the packaging and processing industry rose up to meet. These improvements and advancements in equipment and technology will continue to evolve. As the most comprehensive packaging and processing event in the world in 2021, PACK EXPO Las Vegas and Healthcare Packaging EXPO will lead the way in bringing the packaging and processing community together again at a safe and productive event for all participants.
Attendee registration opens in May. In the meantime, visit packexpolasvegas.com for more information.
Companies in this article