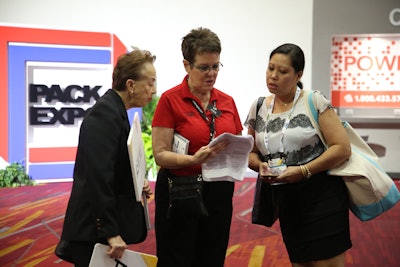 As the COVID-19 pandemic's grip loosens on society, in-person events are coming back, including PACK EXPO Las Vegas, which will take place Sept. 27-29 at the Las Vegas Convention Center. Effective June 1, Las Vegas returned to pre-pandemic guidelines, but to keep all attendees and exhibitors safe, updated health and safety protocols that meet current government regulations and industry standards are being put in place. PACK Ready (www.packexpolasvegas.com/packready), PMMI's commitment to safety, provides a detailed list of protocols implemented by the Las Vegas Convention Center and show management.
With more than 1,500 exhibiting companies, PACK EXPO Las Vegas, co-located with Healthcare Packaging EXPO and produced by PMMI, The Association for Packaging and Processing Technologies, will welcome tens of thousands of people.
Through in-booth demonstrations and free educational sessions on the show floor, attendees will not only see technology in action and have the opportunity to talk with suppliers, they also will learn about best practices and industry breakthroughs.
Can't-miss seminars
Returning on all three days of the show are free, educational, 30-minute Innovation Stage seminars, showcasing breakthrough technologies, best practices, and case studies, presented by industry experts. Topics will include connecting your supply chain network to build resilience; continuous improvement success based on stories from 700 food, beverage, and consumer packaged goods (CPG) manufacturers; and Industry 4.0 and digital transformation best practices.
The Forum will also return to PACK EXPO Las Vegas. The 45-minute sessions begin with short presentations delivered by topic experts and OpX Leadership Network members on the latest industry trends, followed by roundtable discussions with peers on issues affecting many CPGs. Keep an eye out for the sessions listing (www.packexpolasvegas.com/education/the-forum), which will be released soon.
Processing breakthrough solutions
Another can't-miss is the Processing Zone with solutions such as food processing/systems; food safety; engineering, design, and construction services; and more. Attendees can once again start their search for front-of-the-line processing solutions while continuing to solve their packaging challenges, all under one convenient roof. A new processing-specific Innovation Stage will also feature sessions focusing on the latest breakthroughs in facility design, spiral immersion systems, and cleaning systems.
On the Processing Innovation Stage, ProFood World will honor Conagra Brands, Smithfield Foods, B&G Foods, Liffey Meats, and Graphic Packaging International for outstanding sustainability achievements with the Sustainability Excellence in Manufacturing Awards. The award winners will discuss their projects on stage on Monday, Sept. 27, at 3:30 p.m.
Senior leadership from MWC, Kraft Heinz, and CTI Foods will share the details of their 2021 Manufacturing Innovation Award projects on the Processing Innova­tion Stage on Tuesday, Sept. 28, at 3:30 p.m.
With the return of the Processing Zone to PACK EXPO Las Vegas, attendees will have the opportunity to discover solutions to help increase efficiency, achieve total system integration, and ensure safety.
Past, present, and future innovations
The PACK to the Future interactive exhibit debuts this year, showcasing the industry's past, present, and future. It will display curated items and machinery from some of the world's largest CPGs and packaging companies. Industry experts, futurists, and business and financial leaders will speak daily on where the industry has been, where it is now, and what the future holds for packaging and processing. These 30-minute sessions will include advancements in artificial intelligence, sustainability, and more.
The Future Innovators Robotics Showcase will feature student teams from Las Vegas-area high schools, demonstrating creations they designed and built. Attendees are encouraged to see the robots, watch the demonstrations, and talk with the students about the industry.
A final can't-miss event is the Cold Pressure Council Annual Conference (Sept. 28-29), which will take place in conjunction with PACK EXPO Las Vegas and Healthcare Packaging EXPO, offering education on the latest in high pressure processing (HPP) technologies. All registrants of this conference will receive complimentary registration to PACK EXPO Las Vegas and Healthcare Packaging EXPO.
Attendees are invited to download the free PACK EXPO Las Vegas app to organize their schedules, so they can participate to the fullest. It includes all the features of the My Show Planner on the PACK EXPO Las Vegas website at www.packexpolasvegas.com. The app allows users to create a personal itinerary for navigating the show by simply clicking on an exhibitor or session and adding it to their schedules, along with their personal appointments.
Registration, which includes access to both PACK EXPO Las Vegas and Healthcare Packaging EXPO, is $30 until Sept. 3, after which it increases to $130.
For those unable to attend in person, PMMI now offers virtual aspects of the live event via PACK EXPO Xpress (www.packexpolasvegas.com/pack-expo-xpress), where you can search for products and innovations in digital showrooms and connect with solutions suppliers during the event, no matter where you are.
PACK EXPO Las Vegas and Healthcare Packaging EXPO (Sept. 27-29, Las Vegas Convention Center) will reunite the packaging and processing community. With over 1400 exhibitors, no other event in 2021 will bring together a more comprehensive gathering of suppliers offering new products, technologies and solutions. Attendee registration is now open.
Companies in this article