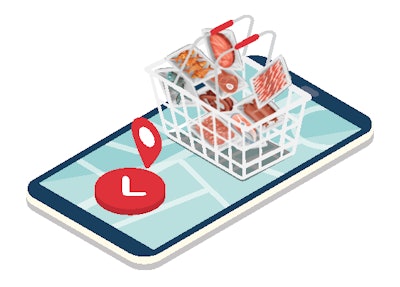 PMMI Business Intelligence, 2022 Meat, Poultry, Seafood & Alternative Proteins: Automation, Expansion, Sanitation
The popularity of online shopping increased significantly through the pandemic, and the protein industry is no exception.
Online consumer purchases of groceries increased 41% in 2021 because of the pandemic, and 45% of surveyed protein industry stakeholders are now engaged in e-commerce shipping, according to PMMI Business Intelligence's 2022 report "Meat, Poultry, Seafood, & Alternative Proteins: Automation, Expansion, Sanitation."
Consumers Adjusting to Online Meat-Buying
COVID-19 forced consumers to re-evaluate the way they purchase groceries. In a survey conducted by marketing agency Midan Marketing, 53% of shoppers stated they purchased meat or poultry online because of the pandemic.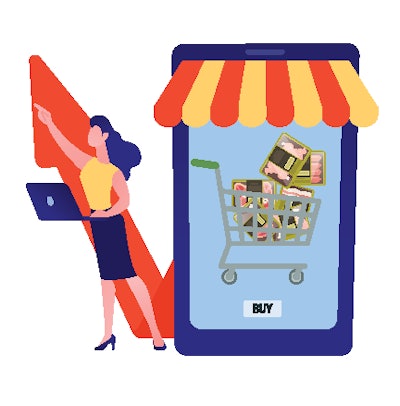 Online shopping experiences have improved since the early days of the pandemic, and 34% of shoppers said they would use an online option as their primary method of purchasing meat and poultry after the pandemic subsides. Consumers stated they prefer the convenience and safety of online shopping, while also noting improvement in the quality and consistency of the items chosen for them.
The online shift through the pandemic has been apparent on the manufacturing side as well. A large national processor of meat, poultry, and fish found their e-commerce sales of frozen meat and seafood jumped 150% in 2020, an article from Food Processing said. Another large international meat and poultry product manufacturer saw an 89% jump in e-commerce orders from October to December 2020 when compared to the previous year, according to an article from Food Dive.
"People are way more comfortable with buying food online – COVID also got people really comfortable with having someone else pick out their food," said a chief marketing officer at a poultry manufacturer.
Manufacturers Adapt to the Shift
Preparedness for this shift varies among companies, with about two out of five respondents currently involved in e-commerce saying it did not require them to make any changes to their processing or packaging strategies.
"About half our business is e-commerce, but it has not required any major changes in our operations," according to a vice president of operations at an SME processed meats company.
On the other hand, 55% of surveyed industry stakeholders are still not shipping through e-commerce channels. Of those, 10% are now considering adding e-commerce capabilities in the future.
"E-commerce is a small percentage of our business model, and we'll only make changes to our line production if demand increases," a CEO at an industry leading company said.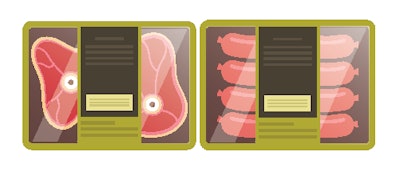 The rigors of e-commerce distribution have required manufacturers to re-evaluate their packaging priorities, placing greater emphasis on durability. VSP is a particularly attractive option for e-commerce distribution, as it can withstand the rigors of more frequent handling while retaining an aesthetically pleasing packaging presentation.
Sustainability Questions Remain
The waste generated by e-commerce channels has been a topic of discussion among sustainability-minded industry experts, but this concern has not always translated into public opinion.
Despite the significant increase in online grocery shopping during the pandemic and the general concern that consumers have for the sustainability of their products, only 36% of consumers felt that the fresh foods delivered to them from the grocery store had too much packaging, a survey from Deloitte found.
While not a majority, this statistic still signals room for improvement when it comes to reducing packaging material usage.
AI Helps Shape Digital Meat Storefronts
Larger meat and poultry manufacturers are tapping into the power of AI-driven analysis to optimize their digital product presentations. AI programs analyze buying patterns and compare them to how images of products are presented, examining packaging type, product/packaging orientation, size/quantity, and accompanying information such as usage suggestions and instructions.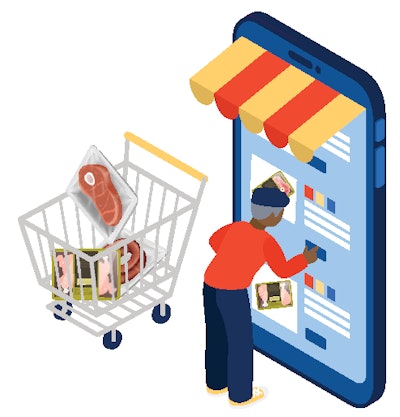 Tapping into this big-data analysis helps meat and poultry manufacturers present the most desirable product image to consumers in the digital space, increasing buying confidence in the absence of physical handling and inspection.
To continue encouraging online purchases, manufacturers will need to carefully examine the role packaging plays in online sales and buying choices.
B2B E-Commerce Ordering
The pandemic upended consumer buying behaviors, but it also forced many suppliers and retailers to adjust their purchasing strategies.
Some B2B food purveyors noticed that businesses were placing orders through consumer-oriented digital storefronts during high-volume crunches at the height of the pandemic.
Some manufacturers have since instituted dedicated B2B e-commerce pages. While only a small percentage of overall business, these B2B online ordering systems represent another evolution in omnichannel protein distribution.
Source: PMMI Business Intelligence, 2022 Meat, Poultry, Seafood & Alternative Proteins: Automation, Expansion, Sanitation
Download the FREE report below.