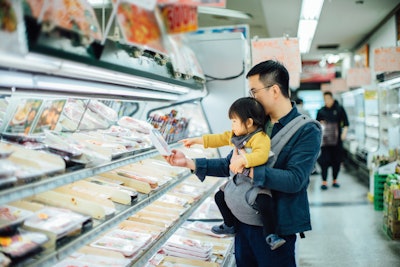 Getty Images
Sustainability is a dominant theme in protein packaging. According to a recent report, 85% of surveyed protein CPGs now have sustainability initiatives underway.
According to PMMI Business Intelligence's 2022 report "Meat, Poultry, Seafood, & Alternative Proteins: Automation, Expansion, Sanitation," these companies are primarily using more recyclable materials (41%), lightweighting (35%), or changing packaging formats (27%) to reach their sustainability goals. Other initiatives noted by surveyed brands include adding post-consumer recycled content to packaging (26%), using compostable packaging (17%), eliminating plastics (15%), and using plant-based packaging (12%).
What's Behind Company Sustainability Initiatives?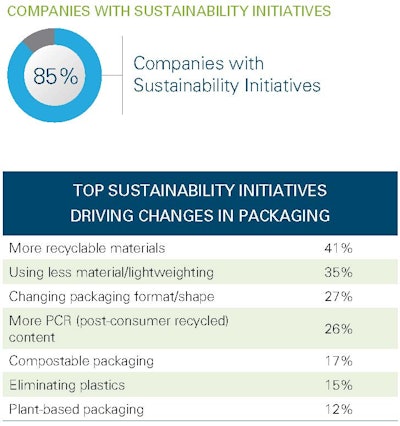 One manager at an SME frozen meat and poultry brand offered a glimpse at why companies might reach for sustainability, saying "we need a flexible film using greener materials so it's not impacted by the price of oil."
An assistant plant manager at a SME fresh beef, pork, and lamb company noted challenges encountered with these initiatives. "We are striving to achieve the goal of more sustainable packaging by 2025, but the challenge is to maintain the standard of quality and safety with thinner films," according to the report.
The Role of Consumers
Sustainability is a top concern for consumers across all industries. While protein industries have received less consumer scrutiny than other markets in the past, consumers are increasingly concerned with the sustainability of their protein packaging choices.
According to an article from Food Business Africa, 54% of consumers now state that they take the sustainability of protein packaging into consideration when making a purchase, with 70% of consumers asserting they are willing to pay more for sustainable packaging.
This trend is even more pronounced in younger generations, as 83% of consumers under 44 are willing to pay a premium for more sustainable protein packaging, the Food Business Africa article says.
"Consumers continue to demand traditional protein options, but they are clearly signaling an expectation of the animal protein industry to do more to address environmental concerns," an expert at an animal science and meat industry analyst said.
Sustainability on the Label
While the consumer preference for sustainable packaging is clear, there is a significant disconnect when it comes to knowledge. The majority of protein shoppers ultimately admit they do not know if their protein choices are sustainable or not, leaving ample opportunity for manufacturers to more clearly communicate their sustainability credentials.
One of the most effective ways to convey the sustainability of a product and its packaging to consumers is by including the information on the label. Most consumers (67%) state that they regularly check packaging for clues to determine a product's sustainability, with the most looked-for terms being "recyclable" (30%) and "less plastic" (25%), according to research from Amcor.
With 90% of consumers saying they primarily examine the front-facing side of a package when evaluating a product, it is important for manufacturers to clearly display sustainable credentials prominently on the face of the package, according to an article from Refrigerated and Frozen Foods.
Seafood Perceived as More Sustainable
Some seafood consumers are motivated by the perceived environmental friendliness of seafood when compared to other protein categories.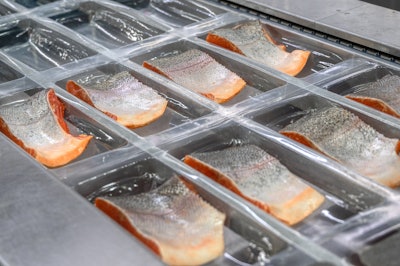 Half (50%) of seafood consumers say that sustainability claims or certifications have a major impact on their purchasing decisions, while 38% of seafood consumers believe that seafood is innately more sustainable than other proteins, an article from FMI, The Food Industry Association says.
Consumers often have a disconnect between belief and knowledge, however; only 28% of consumers claimed to be knowledgeable about sustainable seafood and its requirements, the FMI article says.
Seafood manufacturers have the potential to capitalize on this consumer perception by providing consumers with more information regarding the sustainability of seafood, preferably right on the package itself.
Source: PMMI Business Intelligence, 2022 Meat, Poultry, Seafood & Alternative Proteins: Automation, Expansion, Sanitation
Download the FREE report below.
Companies in this article