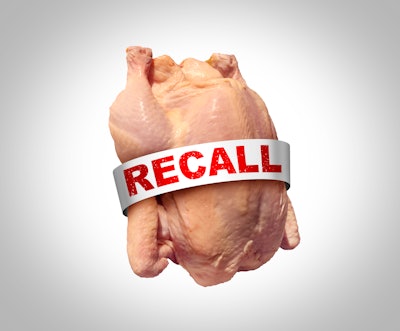 Food safety is not only affected by supply chain, but it also can impact the entire supply chain. Occurrences span from contaminated water used in the field, to improperly cleaned machines between batches during processing, to consumers cutting lettuce with the same knife they had just used to cut raw chicken. A key part of the solution that these different audiences have in common is education.
Stop Foodborne Illness—a national public health nonprofit—not only advocates for effective food safety policies and regulations for food manufacturing, food handling, and food processing, but also emphasizes the need to improve food safety culture through education. According to the Centers for Disease. Control and Prevention, approximately 48 million, or one in six, Americans experience a foodborne illness annually with 128,000 of them needing hospitalization and 3,000 resulting in death.
"Stop delivers the 'why' in educating individuals about food safety by sharing real stories of severe foodborne illness. We explain that people lose their lives due to lack of food safety measures and food safety culture. Training and education are key to reducing the incidence of foodborne illness and specifically outbreaks due to poor handling of food," says Mitzi Baum, chief executive officer, Stop. Baum, who is an adjunct instructor for Michigan State University's online food safety program, is also a member of the International Association of Food Protection, the Conference for Food Protection, and the Association of Food and Drug Officials.
Two particular areas of concern are:
Produce and Poultry—there are many opportunities throughout the growing/raising, transportation, and delivery of products for mishandling, meaning that product may arrive at a processing plant already contaminated.
Frozen foods—maintaining the right temperatures throughout the supply chain until it is used by the consumer can prove difficult without proper cold chain technologies and handling.
Food safety culture, the strongest preventive measure
Workers need to understand the importance of their role in the production of safe food and that it can have a strong negative impact on consumers if proper food safety standards are not followed. Building a robust food safety culture must start at the top, with leadership emphasizing the importance of the culture and empowering workers to embrace the company's food safety vision. Leadership must have a consumer-centric philosophy in how they do business and educate their teams.
Baum notes that leadership should empower its employees to report breaches in food safety protocol and institute a reward system for those that muster the courage to say something. This concept is still gaining traction in industry but is a significant factor in developing a food safety culture. Improving that culture is preventing foodborne illness outbreaks and when errors do occur, the right actions are taken to keep consumers safe and prevent reoccurrence in the future.
Salmonella continues to be a leading cause of foodborne illness
Stop was initially organized in response to the 1993 E.coli O157:H7 outbreak associated with ground beef, which resulted in the deaths of four children and illness for hundreds more. Recently, Stop began collaborating with the USDA's Food Safety Inspection Service (FSIS) to battle another significant cause of illness: salmonella. The nonprofit aims to get certain strains of Salmonella in poultry declared pathogens, following the same process it used to combat E.coli.
"We want to focus on a finished product standard, meaning that there shouldn't be any Salmonella that's known to cause harm in humans when the product is finished and ready for packaging," says Baum. "Finished product should be tested and if it doesn't meet the standard, it should not be put into commerce. There currently aren't enforceable standards that are science-based, risk-based, or tied to public health outcomes."
For manufacturing this means a finished product standard and testing. The current standard is to test for generic Salmonella, which doesn't identify those strains that can cause an outbreak as not all strains are harmful to humans.
For more on Stop's initiatives regarding Salmonella, visit their site as well as this in-depth article put out by ProPublica.
Tools for small to medium-sized companies
The Alliance to Stop Foodborne Illness, a program of Stop, is developing a toolkit on food safety culture for small and medium enterprises that don't have the financial or human resources to develop and grow their internal cultures. The toolkit is set to be released in spring of 2022.
Aspects of the toolkit include:
Education on how daily actions contribute to a culture of food safety
An executive summary of activities that promote food safety and how to extend that knowledge across the board
Building a positive recognition system for employees to reinforce proper food safety behavior
Stop has also been working on recall modernization with the Food and Drug Administration (FDA) to make it more user friendly for consumers, titled "Collaborative Plan to Achieve Customer-Focused Recall Modernization." The document outlines the steps needed for the U.S. to improve its antiquated and disjointed recall process.
Companies in this article