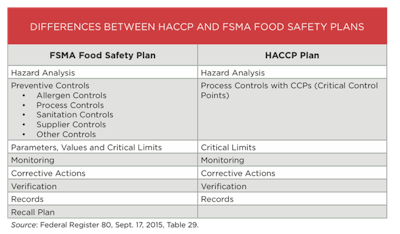 Many food companies are well acquainted with HACCP (Hazard Analysis Control Critical Point) plans as the major component of their food safety systems. In the U. S., HACCP has been mandatory for meat and poultry, juice and seafood products for many years. It has lead the way for global adoption of a proven food safety aptproach through the acceptance by many countries of the Codex Alimentarius standards for hygiene and preventive controls.
It is no surprise that HACCP and its seven principles have gained worldwide recognition. Many companies have voluntarily chosen to build their food safety systems around HACCP principles and plans, even though it has not been a regulatory requirement. Success with HACCP has provided a firm foundation for the next "modern" version of a food safety system. As FDA admits, major changes in U.S. food safety laws were more than 70 years due for updating. Evolution, partly inspired by the globalization of the food chain, led legislative and regulatory leaders to the pass and implement the Food Safety Modernization Act (FSMA) into law six years ago. In September of 2016 compliance began for large food companies. This Fall, small CPG companies must comply, and very-small companies have a year beyond that to comply. As with HACCP, the fundamental concept imbedded in FSMA is prevention of food safety hazards. The food safety plan, like a HACCP plan, is the basis of that prevention architecture.
However, there are significant differences between HACCP and FSMA food safety plans. FSMA requires that the owner, operator or agent in charge of a facility must prepare, or have prepared, and implement a written food safety plan. The food safety plan must be prepared, or its preparation overseen, by one or more preventive controls qualified individuals (PCQI). For HACCP, the rules are not as strict. A HACCP team that prepares the HACCP plan may need assistance from outside experts knowledgeable in the hazards associated with the product and process. An important difference here is that FSMA designates that the plan development must be overseen by a PCQI. The PCQI must have successfully completed training in the development and application of risk-based preventive controls at least equivalent to that received under a standardized curriculum recognized as adequate by FDA, or otherwise qualified through job experience to develop and apply a food safety system. Today, many sources offer the training course based on the core curriculum developed by the Preventive Controls Food Safety Alliance (PCFSA). For information on PCQI training, visit: https://www.ifsh.iit.edu/fspca/fspca-preventive-controls-human-food.
If the FSMA food safety plan is not done correctly—for example, failure to properly assign an essential preventive control or conversely, assigning many numerous prerequisite programs as incorrectly controlling hazards instead of managing "potential" hazards—the plan will likely fail by omission or being overwhelmed (i.e. too many presumed preventive controls to manage). The PCQI's job is to oversee the hazard analysis and assignment of preventive controls to mitigate the "identified" hazards to significantly minimize or prevent these hazards. The key hazards are designated in the hazard analysis by a process consistent with the current scientific understanding of safe food manufacturing, processing, packing or holding.
Again, in contrast to HACCP, FSMA defines a hazard as a situation needing a preventive control, where for HACCP it is an agent (biological, chemical or physical) likely to cause illness or injury in absence of its control. HACCP deals mainly with process controls whereas FSMA preventive controls consists of process controls, allergen controls, sanitation controls and supplier controls. FSMA is risk-based and more outcome oriented than HACCP, which is driven by strict rules.
In summary, small companies facing implementation of FSMA rules this Fall should build on their knowledge of HACCP with a clear understanding of the similarities and differences between HACCP and FSMA rules. Building a world class food safety system depends on constructing an accurate, precise and risk-based food safety plan as the keystone of the facility's food safety system. Having a PCQI to oversee this development is not only smart, it's required.