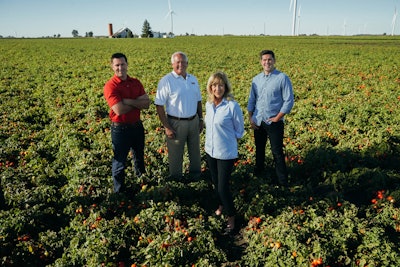 If he were here today, Colt Reichert's great-grandfather likely would not recognize much about Red Gold, the Elwood, Ind., tomato business he founded in 1942 to provide food for World War II troops overseas. For one thing, continual investments in automation have bumped up yields exponentially.
"The amount of tomatoes we could process in the whole year of 1942 we can do in one day now," says Reichert, director of marketing for Red Gold, which now has 1,800 high-season employees and 13 production lines in three sites. For another, there were 150 canners in Indiana in those years. Now, Red Gold is the only one left.
Reichert credits modern technology, including a manufacturing operations management (MOM) system called CDC Factory, with the company's ability to thrive for nearly 80 years. "We can run 22-ton loads in five to 10 minutes," he says.
The tomatoes are treated like precious cargo throughout their journey to the consumer's plate, traveling in water from the farm to the canning operation (prevents bruising). Optical color sorters throw out any yellow or green fruit to ensure inferior specimens never make it to the can with Red Gold's bright yellow and red label. The automatic peeling machines are accurate—whole tomatoes are just that, with no broken fruit.
Not all food and beverage companies are as fastidious—or as proactive—as Red Gold is. In an industry that still has many small producers, at least in the U.S., the margins are often too small to afford a lot of technology investment.
"The food industry is not too advanced when it comes to advanced manufacturing technology," says Reid Paquin, industry analyst, food and beverage/CPG, for GE Digital. "We won't see these great advances in HMI and SCADA. It's more about connecting manufacturing systems with enterprise information systems to connect consumer feedback to the plant faster."
That's important, as the industry is facing rapidly evolving consumer tastes, influenced by our social media culture as well as changing attitudes on health. Consumers are driving requirements for more variety, higher availability, greater heritage visibility, more wholesome and sustainable ingredients, and access to products through multiple channels. These consumer-driven requirements put stress on an already complicated supply chain and traditionally low-margin industry.
It's never been easy to be a food and beverage producer. The pain points are familiar: spoilage or contamination of fresh food; volatile commodity prices; spiraling food-processing costs, including the price of energy; the need to squeeze out ever more efficiency; and health and safety of employees and the environment. Factoring in the need to respond directly to consumer demands makes it all that much harder. But scrappy food producers are stepping up.
Red Gold, for example, created a Facebook page years ago to share tomato-based recipes with consumers. But in 2015, consumers started posting questions about whether the company's products contained Bisphenol A (BPA). Even today, the industry views BPA as safe for human consumption, but that wasn't good enough for Reichert.
Though Red Gold's tomatoes had never tested positive for BPA, the company went one step further, working with its top can supplier to help change its lining, which did contain the compound. Though Red Gold did not have to change its own production processes, Reichert was concerned that the "clean" can meet its standards for reliability, as well as safety.
"You don't want to can up a whole bunch of tomatoes in the summer and then have them fail in the winter," he says. Tomatoes' high acidity can eat through weak can linings. "We changed the whole marketplace. Once [BPA is] in the liner, you can't continue the conversation. We needed to take care of this."
Red Gold was the first tomato company to listen and act on consumers' desire to eradicate BPA, making it a leader in the growing "clean label" movement that prizes origin information along with a smaller number of healthier and more sustainable ingredients.
Consumers demand transparency
Living in an information age, consumers—especially Millennials—expect to know everything there is to know about the food they eat. Many people are scared by high-profile food-safety problems such as Chipotle's E. coli outbreak in 2015. And for some, food allergies are a life-threatening concern that requires alertness to every bite eaten. So transparency of food heritage, from the farm to the fork, is a growing requirement of doing business.
Tetra Pak provides packaging solutions for dairy companies, among others, that allow consumers to track their product's origin with quick barcode scan and website lookup. These companies have always had the ability to trace products, thanks to carefully maintained paper logs, but those time-consuming paper sheets are going electronic, says Mikael Odelius, automation manager at Tetra Pak.
The 2011 Food Safety Modernization Act (FSMA) does not mandate digital traceability—not yet, anyway—but many food and beverage producers are getting out in front and doing it themselves.
"The consumer can sit at home, get the processing history and see the farms where their product came from, right down to the batch level," Odelius says. Tetra Pak's reporting tool is based on a SQL database that stores structured data, including batch numbers for specific production runs. Producers can publish reports showing processing history for specific batches via a website. Data-hungry consumers can't seem to get enough.
Where did that pickle come from?
Pickles are one food item that generally are not subject to contamination or safety issues. But Tim Hausbeck, president of Hausbeck Pickle Co. in Saginaw, Mich., does not care to tempt fate. The third generation of pickle men, Hausbeck sells to fast food chains.
The company implemented cloud-based enterprise resource planning (ERP) from Plex last year. "Now we have traceability not only from my location but all the way to a store," Hausbeck says. In case of a recall, Hausbeck would be able to pinpoint the cause of the problem much more quickly.
"Quality and traceability are absolutely key," Hausbeck says. "To be able to demonstrate that you have good quality procedures and that you are following the key health standards, that has been critical in the plant." It's all about faster access to data. "The consumer and the retailer cannot afford to wait for the source of a health problem," he says.
"Before, it would take me days to find out how many lots that one batch of product went to. I now have a traceability tree in two seconds," Hausbeck adds. When lives are at stake, an outbreak of a pathogen like E. coli or salmonella can put a small producer out of business in a hurry. Isolating the problem and getting the offending product out of the food supply before anyone else gets sick can turn a bad situation into a public relations coup.
Odelius anticipates that grocers will soon be able to facilitate recalls by matching customer loyalty or credit card payment data with people who bought a particular product. Beyond just announcing a product recall, as is done today, employees could go so far as to call customers if warranted. Progressive grocery stores like Albertson's are working on listing product recall data on customer receipts, an extra place to get the word out.
Technology trends
Advanced technologies such as robotics, sensing, control and, especially, Internet of Things (IoT) are the mega trends in the food and beverage industry, according to Sajith Wimalaratne, head of food and beverage development for UK-based Cambridge Consultants.
"Sensing and communications technology is plummeting in price," he says. That means even producers that have sat on the sidelines due to empty corporate coffers are beginning to invest in technology that enables the next generation of efficiency improvements. "It's essential for them to do so."
Nowhere is there more emphasis on compressing the time taken at each step in the value chain than for companies that handle fresh produce.
"The speed at which you perform all the tasks—harvesting, freezing, logistics, distribution—is key," says Nathan Wrench, head of industrial and energy for Cambridge Consultants. "There are several links in the chain at which technology can be applied to ensure the produce is not wasted."
Real-time sensing technology gives an indication of the state of the fruit or vegetable. If a truckload is getting the near the edge of salability, logistics optimization systems can take over, alerting the truck driver to reroute to reduce waste.
Analytics is being used to predict demand for delicate produce, marrying it more accurately to production. The more producers can do to more accurately estimate the demand in advance, the better, Wrench says. Fruits like strawberries have to get into the hands of the consumer as soon as possible, or all is lost.
Digi International's Honeycomb wireless sensor solution monitors perishable foods throughout the cold chain. The sensor communicates to a gateway that captures the food status data and stores it in the cloud, from which the customer can pull reports. This has the dual benefit of cutting down on manual processing and increasing velocity, according to Jamie Williams, vice president and general manager for Digi Cold Chain Solutions.
Digi also offers machine-to-machine (M2M) and IoT connectivity products and services. For example, users can validate that the trailer is at the proper temperature before the product is loaded so the product's shelf life is not reduced, Williams explains. The customer and truck receive alerts as to the trailer's temperature so adjustments can be made proactively, if necessary. The data is shared between the shipper, the transporter and the recipient.
"The overall goal is to extend shelf life and make sure that the product is arriving on the shelf to give the customer the greater ability to share the product," Williams says.
For many types of fresh food, this level of attentiveness to cold-chain conditions could be seen as overkill. But imagine a shipment of 1,400 lbs of fresh-caught bluefin tuna heading from the waters surrounding Prince Edward Island in Canada to the hands of the most elite sushi chef in Japan. That expensive cargo deserves the utmost in care.
As with any manufacturer, the work never stops. "We overhaul our processes all the time," Red Gold's Reichert says. "Technology is changing so fast now. You just have to invest and really go for it."
Companies in this article